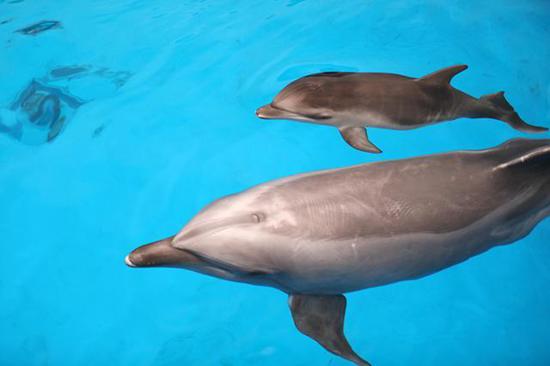 Dolphin calf "Jiubei" and the mother "Sanba" in an ocean park in Tianjin [Photo: Xinhua]
A dolphin calf was born in an ocean park in north China's Tianjin Municipality, marking a rare success in bottlenose dolphin reproduction in an artificial habitat in China.
A female dolphin called Sanba gave birth to a calf in Tianjin's Haichang Ocean Park on May 6. A week-long observation found that the calf has developed well and is able to swim independently for a long time, according to the ocean park.
"Dolphins are very demanding of their environment, and there have been very few successful reproduction cases in China. The latest case in Tianjin is the first in northeastern China, which is a breakthrough in the artificial breeding of rare marine species," said Qiao Yanzhou, deputy general manager of ocean park.
Qiao said Sanba, one of the park's most popular dolphins, became naturally pregnant in spring last year. After a gestation period of about 12 months, Sanba gave birth to a calf measuring around 1.2 meters on May 6.
The calf has been temporarily named "Jiubei." The dolphin's father has not been identified yet since dolphins live in groups. The park said they would carry out DNA tests to confirm Jiubei's father.
Park workers have been dispatched to observe and protect the calf around the clock as the baby has no vision and currently lacks a sense of direction.
Since its opening nine years ago, the park has successfully bred five polar bears, three Antarctic penguins and dozens of sharks.