Special: Conference on Dialogue of Asian Civilizations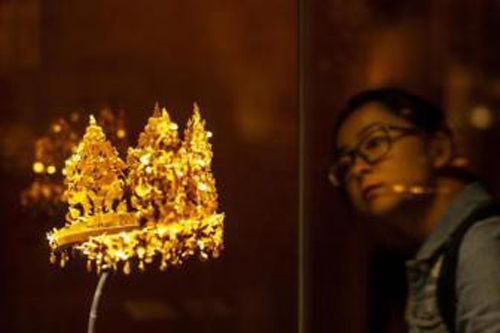 A visitor takes a closer look at a gold crown on display in the Utensils and Ornaments Endlessly Fine exhibition held at Tsinghua University Art Museum. (Photo by Hou Yu/China News Service)
Since March 2017, more than 200 artifacts from the National Museum of Afghanistan, in Kabul, have been touring China to offer a portrait of a civilization standing at the crossroads of East and West.
To mark the first Conference on Dialogue of Asian Civilizations to be held in May in Beijing, this assembly of archaeological treasures is now on show at Tsinghua University Art Museum. Entitled Utensils and Ornaments Endlessly Fine, the exhibition was unveiled on April 18 and runs through June 23.
The Afghan artifacts include bronze objects, gold jewelry, limestone architectural components, glassware and ivory plaques, all vivid evidence of the diverse history of a landlocked country that once played a significant role in cultural interchanges between civilizations on the Eurasian continent.
Du Pengfei, deputy director of Tsinghua University Art Museum, said the treasures offer glimpses into the decline and revival of a region and its civilization, showing people the power of cultural interchanges and communication.
"Also, it inspires us to reflect on how we should view history, as well as our culture and that of others. It reminds us of the importance of an attitude of tolerance, an open mind, mutual learning and shared development," he says.
The objects came from four archaeological sites across Afghanistan, including Tepe Fullol, a northern village where gold and silver dating to the Bronze Age was found by local farmers in 1965. They were cut into uneven pieces for sale, and staff members of the National Museum of Afghanistan managed to retrace several of them. Some of these broken gold pieces that bear geometric and animal patterns are on show.