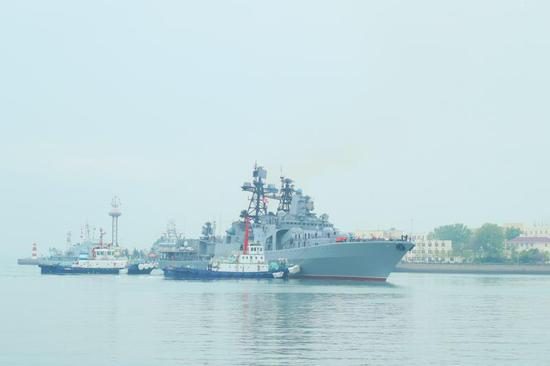 The large anti-submarine ship Admiral Tributs of the Russian navy arrives at Qingdao Port for the Sino-Russia Joint Sea 2019 naval exercise on Monday, April 29, 2019. (Photo/China Plus)
Russian warships arrived in Qingdao, a port city in East China's Shandong Province, on Monday to hold scheduled joint naval exercises with China, as military experts said the navies will practice joint defensive operations and show a high level of mutual trust.
A Russian fleet led by the Varyagguided missile cruiser, the flagship of Russia's Pacific Fleet, arrived at the Dagang Port of Qingdao on Monday to join the joint Naval Interaction-2019 exercises, as the Russians were warmly welcomed by their Chinese counterparts, according to a statement by the People's Liberation Army (PLA) Navy sent to the Global Times on Monday.
The Russian fleet also includes a submarine, two anti-submarine ships, a corvette, a landing ship, a tanker and a rescue vessel.
The PLA Navy will send a submarine, two guided missile destroyers, three guided missile frigates and a submarine rescue ship in the exercises, the statement said.
Seven fixed wing aircraft, four helicopters and 80 marine members from both sides are also part of the drills, according to information released by China's Ministry of National Defenseon Thursday.
The drills are scheduled to start on Monday and last until Saturday.
Joint maritime defensive operations will be the theme of the drills, the Chinese Navy's statement said.
Exercise subjects include joint maneuvering, organization of communication, missile and artillery firing at sea and air targets and search and rescue support, Russia's Sputnik news agency reported.
Zhang Junshe, a senior research fellow with the PLA Naval Military Studies Research Institute, told the Global Times that since the theme of the exercise is joint maritime defensive operations, the subjects may also include anti-aircraft, anti-submarine and submarine rescue.
During these subjects, the parameters of both navies' weapons and equipment including radar and sonar will become open to each other, which is an indication of the high-level strategic mutual trust between the two militaries, Zhang said.
The aim of the drills is to consolidate and enhance the comprehensive strategic partnership of coordination between China and Russia, deepen practical cooperation between the two militaries and boost the two navies' capability to jointly deal with maritime security threats, the statement said.
The annual China-Russia Naval Interaction exercises continuously strengthen the level of cooperation at all levels by setting up the likes of joint command center and joint directing departments, Zhang said.