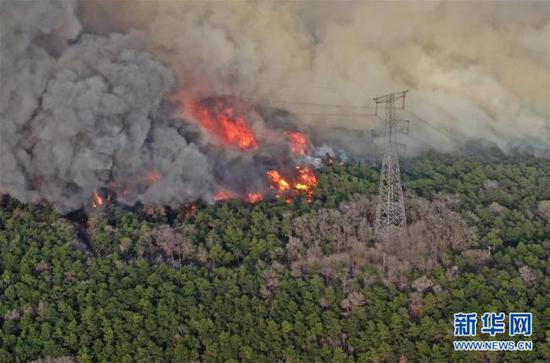 Photo taken on April 17, 2019 shows the fire site near Qipan Mountain in Shenyang, northeast China's Liaoning Province. [Photo: Xinhua]
More than 4,000 people have been battling a fire near Qipan Mountain in the northeastern Chinese city of Shenyang, local authorities said.
The fire broke out at about 1:50 p.m. Wednesday and spread fast due to strong winds, according to local authorities.
Two helicopters, six unmanned aerial vehicles and over 150 fire trucks have been mobilized in the operation. As of 8:55 p.m. Wednesday, a total of 122 rainmaking rockets had also been fired to quench the fire.
More than 11,000 locals had been evacuated to safe areas as of 9:40 p.m. Wednesday.
No casualties have been reported so far, and an investigation of the cause of the fire is underway. Enditem