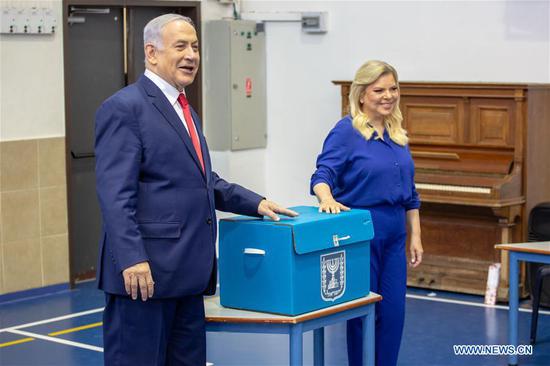 Israeli Prime Minister Benjamin Netanyahu (L) casts his ballot at a polling station in Jerusalem, April 9, 2019. Israel on Tuesday morning started day-long general elections across the country to choose its next parliament and decide the premiership. (Xinhua/JINI/Emil Salman)
Israel's president said on Tuesday that a majority of lawmakers had advised him to task incumbent Prime Minister Benjamin Netanyahu with forming the government following the recent elections.
President Reuven Rivlin said in a broadcast that 65 members of the newly-elected parliament, or Knesset, had recommended him to task Netanyahu with forming the government.
A coalition needs at least 61 members to secure a majority in the 120-member Knesset.
Netanyahu "now has the support of a majority of Knesset members," Rivlin said. The president was expected to formally announce Netanyahu's candidacy on Wednesday.
The Central Elections Committee on Tuesday announced the final results of the April 9 elections. A spokesperson for the committee said that further calculation showed that Netanyahu's Likud lost one seat and the ultra-Orthodox party of United Torah Judaism gained a seat.
It means that United Torah will have eight seats in the Knesset and the Likud will have 35 seats, similar to its largest opposition challenger, Blue and White.
Despite the tie between Netanyahu and Blue and White's leader Benny Gantz, Netanyahu will form the next government because he secured a majority bloc of right-wing and ultra-Orthodox parties that will support him and sit in his governing coalition.
The results mean that Netanyahu is heading for a record fifth term in office. Enditem