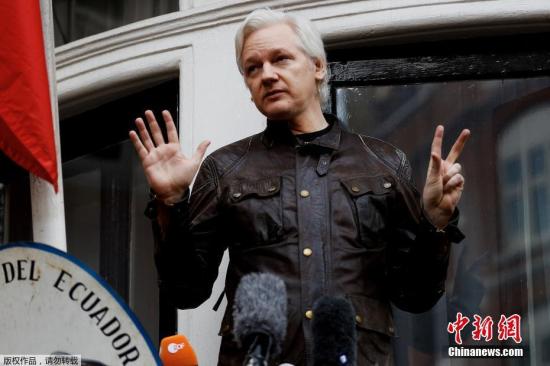 WikiLeaks founder Julian Assange. (File photo/China News Service)
The future of WikiLeaks founder Julian Assange is the subject of an international political debate following his arrest in London on Thursday.
Since 2012, the 47-year-old Australian had been claiming asylum in the Ecuadorian embassy, after failing to attend a court hearing over allegations of sexual assault in Sweden, claims he has always denied.
On Thursday Ecuador withdrew his asylum status and he was physically removed from the embassy before being taken to Westminster Magistrates' Court. There, he was found guilty of jumping bail seven years ago, and is currently in London's Belmarsh Prison awaiting sentencing. He could face up to 12 months for the offense.
The United States is also seeking his extradition on charges of conspiring with former US Army intelligence analyst Chelsea Manning to break into a Pentagon computer.
WikiLeaks released documents showing how hundreds of civilians had been killed by the US military in incidents in Iraq and Afghanistan that had not been reported.
In Britain, however, there is pressure for Sweden to be given priority. Two years ago, the rape inquiry was dropped but Swedish prosecutors have confirmed they are looking into the case again, although it has not been officially resumed.
More than 70 members of the House of Commons and House of Lords have signed a letter to Home Secretary Sajid Javid demanding Assange face the Swedish authorities if requested. "We do not presume guilt, of course," said the letter, "but we believe due process should be followed and the complainant should see justice be done."
When Assange was arrested, Javid tweeted, "I can confirm Julian Assange is now in police custody and rightly facing justice in the UK.... No one is above the law."
Labour Party leader Jeremy Corbyn agreed Assange should answer questions about the Swedish allegations but said any extradition request from the US should be challenged.
"If there are allegations which Julian Assange needs to answer of sexual issues, sexual attacks that may or may not have taken place in Sweden, then it's a matter for the courts to decide. But I do think he should answer those questions," he told Sky News.
"My objection was to his extradition to the United States because I do believe that WikiLeaks told us the truth about what was actually happening in Afghanistan and in Iraq."
Labour MP Jess Phillips agreed with Corbyn that the Swedish allegations were "the first and most pressing case he should answer," adding "the UK government should support his extradition to Sweden before they even begin to consider any pressure from the US."
Assange's father, John Shipton, has pleaded with Australian politicians to get involved.
"It can be resolved simply to the satisfaction of all," he said.
Australian Prime Minister Scott Morrison, who has just called a general election, had previously said Assange would receive the same consular assistance as any other Australian abroad, but that he would not be given any "special treatment".
Opposition Labor Party leader Bill Shorten said he was willing to let Assange's lawyers speak to his spokesperson, and said the specific details of his case meant it was different from "a backpacker who's been on a binge in Bangkok and needs the help of the embassy".
Assange's father said he had been alarmed by his son's unkempt, haggard appearance when he was arrested. "The way they dragged him down the steps, the coppers - he didn't look good," he added. "I'm 74 and I look better than him and he's 47. It's such a shock."