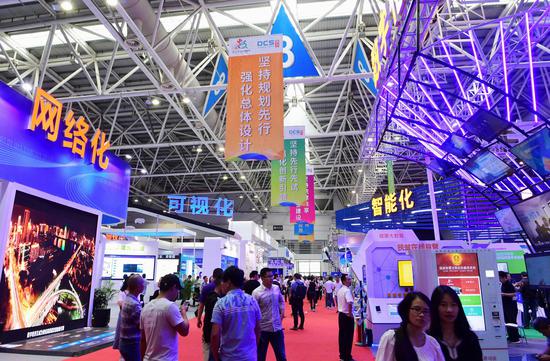 The exhibition area of the first digital development summit held in Fuzhou, Fujian Province in April 2018. (Xinhua/Wei Peiquan)
China will hold the second summit on digital development from May 6 to 8 in Fuzhou, capital of Fujian Province, according to a State Council Information Office press conference held Tuesday.
The second Digital China Summit aims to serve as a platform for issuing China's policies on IT development, displaying the achievements of e-government and the digital economy and the exchange of theoretical and practical experiences in building a digital China, said Yang Xiaowei, deputy director of the Cyberspace Administration of China, at the press conference.
Themed "New Dynamics, New Development, New Achievements Empowered by Information," the summit mainly consists of forums, an exhibition on digital China and an innovation contest, Yang said.
The event is co-organized by the Cyberspace Administration of China, the National Development and Reform Commission, the Ministry of Industry and Information Technology and the Fujian government.
Organizers plan to invite around 1,500 guests to the summit. "So far, over 40 academicians with the Chinese Academy of Sciences and the Chinese Academy of Engineering and guests from leading companies in the digital field have confirmed to take part in the summit," said Zhang Zhinan, executive vice governor of Fujian.
Zhang said intelligent technologies and equipment such as facial and voice recognition, facial payments, driverless cars and driverless vendor vehicles will be used at the event, with 5G signals fully covering the major venues.
Several ministries and commissions, including the Cyberspace Administration of China, the Ministry of Agriculture and Rural Affairs, and the National Health Commission, will launch a series of policies on industrial informatization and digital economic development at the event.
Zhang also said around 400 projects on the digital economy were agreed upon during last year's summit, with a total investment of around 300 billion yuan (44.7 billion U.S. dollars), and nearly 200 of them have begun construction.