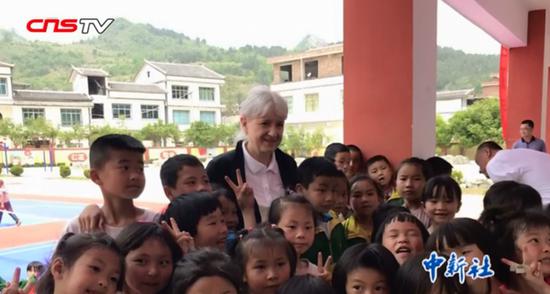 German sinologist and writer Petra Haering-Kuan poses for a group photo with children from Pingtang, Guizhou Province. (Photo/Screenshot on CNSTV)
(ECNS) - German sinologist and writer Petra Haering-Kuan has made a donation to students in poverty-stricken mountainous areas of southwest China's Guizhou Province, one of the last wishes of Chinese-born German sinologist Yu-chien Kuan (1931-2018).
This marked her second trip to the inland province after she visited minority villages in Guizhou as well as its famous Huangguoshu Waterfall in 1994. The German sinologist said she was really impressed by the rapid development and changes of Guizhou in 25 years.
"I have never imagined the great changes in Guizhou's traffic network. There are wide roads everywhere, many bridges, and bridges that I have barely seen. They are high and long, quite out of my expectation," she said.
After her first visit to China in 1975, she traveled to more than half of country, publishing a number of books about Chinese culture as well as her Chinese family. She said she wants to tell Germans what she has seen and heard and build a bridge of mutual understanding between the peoples of both countries.
She also said that the development and changes in Guizhou form a microcosm of China's progress. She hopes Germans can gain an understanding about China's development from her visit and writing.
Both a writer and a translator, Petra Haering-Kuan will also visit Sichuan, Yunnan and other regions after traveling in Guizhou. She said she hopes to experience the development and local culture of China.