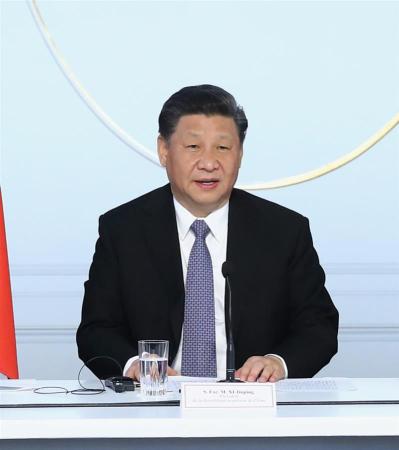 Chinese President Xi Jinping addresses the closing ceremony of a global governance forum co-hosted by China and France in Paris, France, March 26, 2019. (Xinhua/Ju Peng)
Special: Xi visits Italy, Monaco, France
The Chinese side supports necessary UN reforms and safeguards the multilateral trading system, Xi said, adding that his country welcomes France and other countries to actively take part in the development of the Belt and Road.
He also called for joint efforts to advance the negotiations on a China-European Union (EU) investment agreement.
Hailing China-France friendship, Xi called on the two countries to strengthen cooperation with a long-term and future-oriented perspective under the new circumstances.
China and France should deepen cooperation in traditional areas, accelerate cooperation in emerging areas, strengthen cooperation in addressing climate change, implement the Paris Agreement in an all-round way, and push for positive results at the UN 2019 climate summit, so as to benefit the two peoples as well as the whole world, Xi said.
Macron said communication and coordination between the EU and China play an indispensable role in safeguarding multilateralism.
The EU and China take similar positions in such areas as the Iranian nuclear issue, climate change and Africa's security and development, and both insist on the construction of a strong and just multilateral system, he said.
He said that China's fast development and poverty alleviation efforts are impressive.
France attaches importance to the significant and active role played by China in international affairs, he said.
The EU and China, as important forces on the world stage, should increase strategic mutual trust and promote cooperation through dialogue, he said.
The Belt and Road Initiative (BRI) proposed by China is significant and can play an important role in world peace, stability and development, he said.
The EU could align its development strategy with the BRI in an innovative way and jointly promote Eurasian connectivity, he added.
Merkel said the sound relationship between European countries and China has laid a good foundation for carrying out multilateral cooperation between the EU and China.
The EU should accelerate the negotiations on the EU-China investment agreement, and actively discuss participation in the BRI, she said.
The EU and China should cooperate to safeguard multilateralism and compare notes on reforms of the World Trade Organization (WTO) and other multilateral institutions, she said.
Germany, she said, proposes to hold a leaders' meeting between the EU and China next year.
Referring to the EU and China as important strategic cooperative partners, Juncker said it is important that the two sides maintain dialogue on an equal footing.
He called for the EU and China to actively advance the negotiations on the EU-China investment agreement and maintain coordination on major international issues such as WTO reforms.
Juncker said he is looking forward to seeing positive results at the upcoming EU-China leaders' meeting.