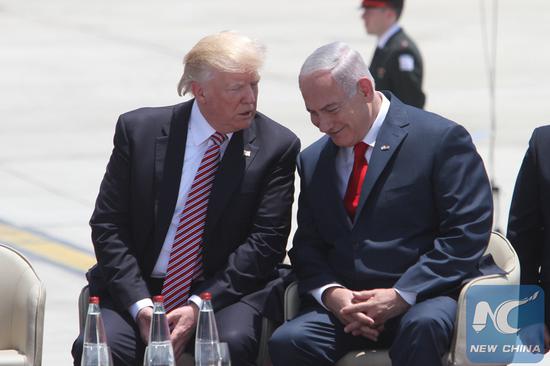 File Photo: U.S. President Donald Trump (L) speaks with Israeli Prime Minister Benjamin Netanyahu at Ben Gurion International Airport in Tel Aviv, Israel, on May 22, 2017. (Xinhua/Gil Cohen Magen)
U.S. President Donald Trump said on Thursday that was is time for the United States to recognize Israel's sovereignty over the occupied Golan Heights, which it seized from Syria in 1967.
Such a bold move marking a major shift in U.S. policy would further complicate the situation and escalate tensions in the region, U.S. experts said.
In a surprise tweet, Trump said that "after 52 years it is time for the United States to fully recognize Israel's Sovereignty over the Golan Heights, which is of critical strategic and security importance to the State of Israel and Regional Stability!"
In response, Israel's Ambassador to the United States Ron Dermer tweeted "THANK YOU, PRESIDENT TRUMP!"
Israeli Prime Minister Benjamin Netanyahu, who has always asserted that the Israeli presence in the Golan is "thwarting" Iran's ambitions of expansion and "is a guarantee for stability" in the region, also tweeted that "at a time when Iran seeks to use Syria as a platform to destroy Israel, President Trump boldly recognizes Israeli sovereignty over the Golan Heights. Thank you President Trump!"
Richard N. Haass, head of U.S. think tank Council on Foreign Relations, tweeted that he "strongly disagree(s) @realDonaldTrump; now NOT the time 4 US to recognize Israel sovereignty over Golan Hts."
"No Arab govt would make peace w Israel &would violate UNSCR 242 which rules out acquiring territory by war and serves Israel as it says all states have right 2 live in peace," he added, refering to United Nations Security Council Resolution 242.
Trump's statement came after Secretary of State Mike Pompeo's meeting with Netanyahu in Jerusalem on Wednesday, when Netanyahu said "I think it's time that the international community recognizes Israel's stay in the Golan, the fact that the Golan will always remain part of the state of Israel."
Pompeo said earlier on Wednesday at a joint press conference with Kuwait's Foreign Minister Sheikh Sabah Al-Khalid Al-Sabah that "there's been no change in U.S. policy with respect to" the position on the Golan Heights.
But recent signs have shown otherwise, indicating that the Trump administration was moving in accordance with Israel's appeal.
A State Department human rights report unveiled earlier this month used the term "Israeli-controlled" instead of "Israeli-occupied" to describe the status of the Golan Heights, sparking wide speculation and worry among observers.
Pompeo told the press traveling with him in the Middle East on Thursday that "we used that language in the Human Rights Report with great intentionality."
"We didn't make a mistake. It's there for a reason. It's not a change in U.S. policy. It was our intent, as it is in every element of the Human Rights Report, to be as factually descriptive as we can, and that's what we did," he said, according to the transcript provided by the State Department.
Israel seized the land in a war in 1967 and annexed it in the 1980s, but the international community has never recognized the move.
The UN peacekeeping force tasked to patrol the buffer zone between Syria and the Israeli-occupied Golan Heights was deployed in 1974 to separate Syrian and Israeli forces. Since then, the buffer zone had remained quiet until the start of the Syrian civil war in 2011.
In July 2018, the Syrian state media outlets said the rebels in southern Syria near the Israeli-occupied Golan Heights accepted plan to evacuate and surrender their heavy weapons to the Syrian army, which has restored control of large swathes of territories in the region, including the crossing with the Golan Heights.
Netanyahu called on the White House in January this year to recognize "Israeli sovereignty" over the Golan Heights in a joint statement with U.S. National Security Advisor John Bolton in Jerusalem.
The White House said Wednesday Trump will host next week at the White House the Israeli prime minister, who is now seeking re-election for a fifth term in the April 9 elections. Enditem