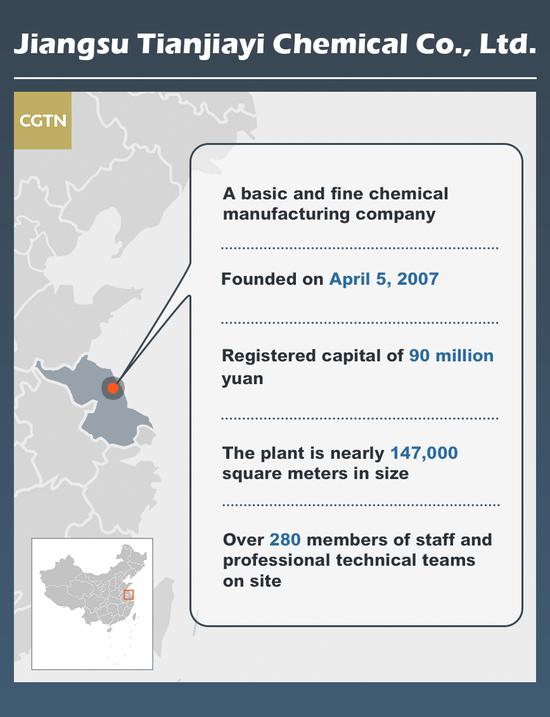 An explosion ripped through a chemical plant in an industrial park in Yancheng City, east China's Jiangsu Province, on Thursday afternoon. Here's what we know so far:
- 12 killed, 30 critically injured
- Unknown number of people sustained minor injuries
- 88 people were rescued
Updated at 07:00 BJT, Friday
As of 3 a.m. on Friday, the blast has left 12 people dead and 88 people have been rescued.
Rescue work continues.
Updated at 21:25 BJT, Thursday
China's National Health Commission has dispatched medical experts to assist with the rescue efforts.
The first group of 11 experts from Jiangsu Province will arrive at the site on Thursday night, followed by the second group of five experts from Beijing and Shanghai.
Jiangsu Tianyin Chemical Co., Ltd. and its chiefs were previously involved in the criminal environmental pollution case for over 100 tonnes of illegally disposed hazardous waste in 2012.
Updated at 20:10 BJT, Thursday
At least six people were killed and 30 others are critically injured as of 19:00 on Thursday, the local government said. Others have sustained minor injuries.
On-site rescue is currently underway and medical teams are working to treat the wounded.
Updated at 19:00 BJT, Thursday
An unknown number of people are injured, according to rescuers.
There are still seven locations on fire at the scene, and some factories nearby have been affected by the explosion.
The local government said the blast happened at about 14:48 following a fire that broke out in a factory that produces pesticides in a chemical industrial park.
Updated at 18:00 BJT
As of 17:00, 31 people have been successfully rescued from the site, and more rescuers from nearby cities are being brought in to help.
It's reported that there are many residential buildings, schools and a kindergarten near the blast site.
Currently, the number of people injured is unknown.
Update at 17:40 BJT, Thursday
A total of 12 people have been rescued, according to a statement by Jiangsu's fire department.
389 firefighters and 86 fire engines are involved in the rescue work, the statement said.
Update at 17:09 BJT, Thursday
An explosion ripped through a factory in Yancheng City in east China's Jiangsu Province on Thursday afternoon. Whether there are casualties is currently unknown, local authorities said.
According to media reports, the explosion occurred at a Tianjiayi Chemical production facility and the explosive substance was benzene.
The fire was brought under control as of 3:50 p.m on Thursday and a search and rescue operation is underway. The ecological environment department has carried out emergency monitoring work.
Further information on the blast has yet to be released, but videos and photos posted online show thick plumes of black smoke billowing from the site.