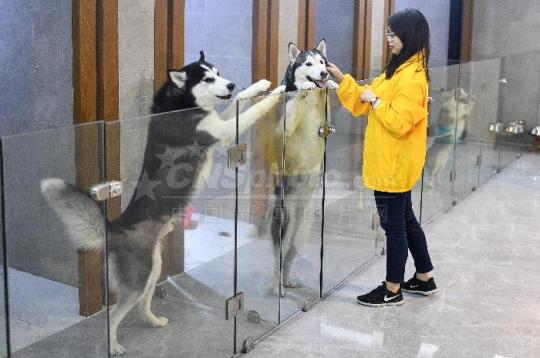 An employee of a pet hotel takes care of dogs in Guangzhou, Guangdong province. (Photo by Chen Jimin/China News Service)
Beijing-based Liu Ronghuan has no problem paying almost 5,000 yuan ($746) for her cat to spend seven days in a luxurious pet hotel, while she leaves Beijing for a family reunion during China's traditional Spring Festival.
The 35-year old college teacher seems quite satisfied with the deal. "Almost all the kennels for pets during the holiday in Beijing are booked out right now, as a majority of pet owners are leaving the city and are looking for a place to take care of their furry babies. I'm happy to finally find a decent place for my cat to stay, after two weeks on the waiting list."
Even though the kennel costs about the same as a three star-rated hotel room per night, Liu said it is worth it, since the one she has chosen offers additional fancy services like massages, beauty salons, and pet portrait photos.
"Come on, Spring Festival is a family time and I want my furry little family member to have a good experience, even if he is not by my side."
Coasting on the rising Spring Festival mood, the consumer spending season for pet boarding and other services is reaching a peak, as middle-income families spoil their furry family members.
Increasingly wealthy Chinese consumers are looking not just for a place for their pets to be housed, but for services that can make their pets' life more enjoyable during the period. A rising number of pet boarding service centers offer rooms with beds and slides, a playground with toys, and beauty services including grooming and showering-almost all that you can imagine.
The market for such services is huge, said Neil Wang, president of consulting firm Frost &Sullivan China.
A report by the firm estimated 99.78 million Chinese families had pets in 2018, up from 69.34 million families in 2013.
The market for pet products and services reached 172.2 billion yuan in 2018, more than three times of 2013, the report said. The market is estimated to reach 472.3 billion yuan by 2023.
About 42 percent pet owners have paid for pet boarding services. Among all pet owners, about 39 percent of pet owners are single, and 26 percent of pet owners go on at least one business trip per month.
Wang also revealed that there is a rising number of households that have seen a steep increase in their spending on pet boarding services, driven by families finding ever more ways to make their pets' life fancier. Such services are becoming more common to people like Liu, who earn decent money from a good job, are single, and so are free from the pressure of raising a child.
But for many people who are in their early 20s and still struggling with food and housing costs, the story might be different.
Cao Ying, a 24-year old Beijing-based actress, has a less stable income. Cao said she has been anxious for weeks, worrying about finding someone to take care of her 2-year-old Pomeranian.
"Those fancy services are not attractive to me. They are just ... not that useful. I mean, can you really tell if a dog is happy because someone is taking photos for him? I'm just looking for a place, or someone who can feed my dog on time, take him to a walk everyday, and just take good care of him," she said.
But the price increase for ordinary pet boarding kennels still surprises her.
China's first-tier cities have already seen average prices for pet boarding services increase by nearly 50 percent for the Spring Festival season.
An assistant from the Aoyuncun (Olympic Village) branch of Beijing-based chain Loving Care International Pet Hospital, which also provides pet boarding services, said the price rises are totally justified, as their colleagues are sacrificing time with their own families during such a big holiday.
"For example, we charge cat owners about 150 yuan per night per boarding kennel during the Spring Festival, but normally the price would be about 100 yuan," she said, adding that costs varied per breed, and their prices are around average among local providers.
"All of our rooms were booked out a month ago," she said. "The situation is quite similar to other service providers."
Cao finally found a service she liked from a pet boarding service app called Viptail. Different from traditional service providers, the app is a hub for pet hosting families and people who can take care of others' pets in their own homes. They can post pictures and descriptions of their homes and services on the app. It has been described as an Airbnb for pets.
"I found a family which wants to take care of my dog and charges less than 60 yuan per day. After I talked to the family and visited their home, they seemed pretty nice and I decided to trust them. Also, I really like that my dog can run in a big apartment instead of staying in a small cell or cage just like a kennel in pet centers," Cao said.
China's rising trend of pet boarding has spurred innovation in a number of such services.
Aside from third-party pet boarding service providers like Viptail and Rover, there are also drop-in services, where people come to pet owners' houses for pet sitting.
"Going ahead, the industry will see more innovative and customized services to meet consumers' growing demand," Wang said.