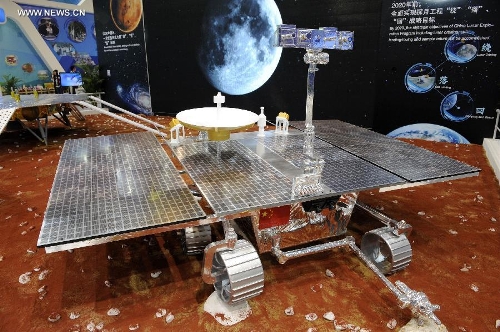 A model of the Mars rover is seen ahead of the 10th China International Aviation and Aerospace Exhibition in Zhuhai, south China's Guangdong Province, Nov. 9, 2014. Some 700 exhibitors at home and abroad with 130-plus planes will attend the six-day airshow from November 11 to 16. (Xinhua/Liang Xu)
The successful Mars landing of NASA's Insight spacecraft on Tuesday ignited discussions on China's social media, with Chinese space scholars and net users saying that China has a long way to go despite the country's rapid development in space industry.
After completing its seven-month journey to Mars, traveling about 485 million kilometers, the Insight spacecraft will detect geophysical signals deep below the Martian surface, including "marsquakes" and heat. Scientists will also be able to track radio signals from the stationary spacecraft, which vary based on the wobble in Mars' rotation, NASA said.
"Insight will study the interior of Mars, and will teach us valuable science," NASA's administrator Jim Bridenstine wrote on Twitter.
"The U.S. is clearly leading in such technology. China needs to add more oil," a Sina Weibo user said.
The Insight spacecraft was planned for launch in March 2016, but due to airtightness problems in devices it carried, it was finally launched on May 5 this year. Its cost also increased from $675 million to $993 million, the China News Service reported.
The launch represents NASA's adherence to its goal of discovering the Red Planet's origin and evolution. Results of Mars project could be used as a reference for studying Earth, as the two planets are very similar, Pang Zhihao, a renowned Chinese space expert, told the Global Times on Tuesday.
"Although we developed fast in deep space exploration, we should stick to our reasonable pace and act in accordance with our real needs," Jiao Weixin, a space science professor at Peking University, told the Global Times.
China is about to launch a moon lander and rover for the Chang'e-4 probe on December 8 to explore the Moon's far side, Russia's Sputnik news agency reported in November, citing Xu Yansong, an official at the China National Space Administration.
It would be man's first landing and rover probe on the Moon's far side, Shanghai-based news portal thepaper.cn reported.
"The Moon is the important first stop for the start of deep space exploration. It provides abundant resources for research and could be a springboard for a Mars exploration," Pang said.
China plans to launch its first exploration of the Red Planet with an orbiter, lander and rover in 2020, and bring samples back to Earth in 2028.