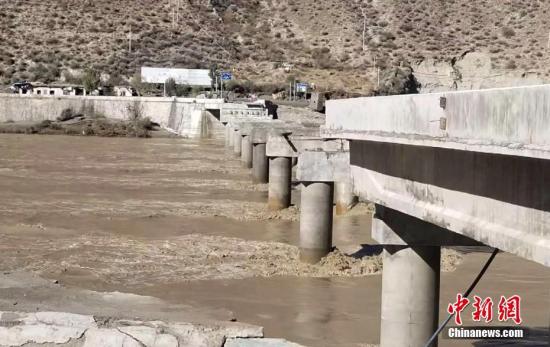 The collapse of the bridge, in Sichuan's Garze Tibetan autonomous prefecture, on Nov。 14, 2018. (Photo/China News Service)
Bridge swept away in Sichuan province; people in danger zone are evacuated
Large volumes of water from a lake created by landslides on the border of Sichuan Province and the Tibet autonomous region headed downstream with a vengeance on Wednesday, washing away a bridge over the Jinsha River in Sichuan and putting flood control authorities farther downstream in Yunnan Province on alert.
The discharge from the lake began on Monday through a man-made channel.
The collapse of the bridge, in Sichuan's Garze Tibetan autonomous prefecture, disrupted traffic on a major highway connecting the province with Tibet, Xinhua News Agency reported on Wednesday, citing Sichuan's traffic and transportation department.
Completed in 2007, the 270-meter bridge-on a primary route linking Sichuan and neighboring Tibet-had been reinforced with steel wire and weights before the flood, Xinhua said.
Traffic is unlikely to be restored soon, and drivers heading to Tibet should find an alternative route, Sichuan Traffic Radio said.
The ministry urged flood control authorities in Sichuan and Yunnan early on Wednesday to be on high alert.
Meanwhile, flood control authorities in Lijiang, Yunnan, issued the highest-level emergency warning to alert people of potential danger.
According to a circular released by the Lijiang government early on Wednesday, the flood would reach Lijiang at around 9 pm, posing great risk to residents along the river.
The circular urged flood control authorities to ensure "zero casualties" and to minimize economic losses.
It required that residents in vulnerable areas be evacuated by 5 pm and not allowed to re-enter the danger zone until the emergency warning is lifted. Special attention should be paid to those engaged in farming, it added.
The controlled discharge from the lake that began on Monday was intended as a safety measure, said Xu Chong, a researcher at Institute of Geology, China Earthquake Administration. Water backing up in the lake had threatened the upper reaches of the Jinsha River.
Since it formed on Oct 11, the lake had retained about 524 million cubic meters of water, according to the Ministry of Emergency Management.
As of Wednesday at 7 am, 492 cubic m of water-almost all of it-had been discharged, the ministry said. But the large volume created trouble downstream.
The lake formed on the border of Sichuan and Tibet when two landslides-one in Chamdo, Tibet, and the other in Garze-blocked the Jinsha River.
Some 34,200 people were evacuated along the river as the lake's water level continued to rise, the ministry said on Sunday.