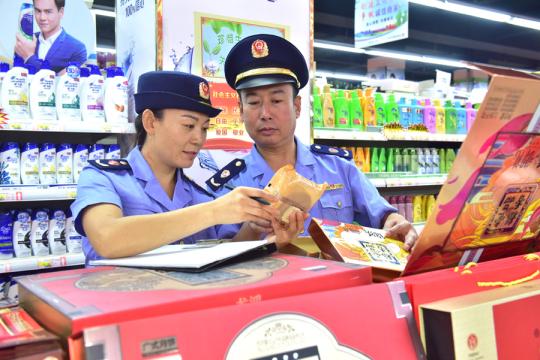 Market regulation officials check food at a supermarket in Xinle county, Hebei province, earlier this month. As the Mid-Autumn Festival and National Day holidays approach, local authorities carried out the inspection to ensure food safety. (Photo for China Daily/Jia Minjie)
Food safety and difficulties in getting doctors received the most complaints in a recent survey about satisfaction with government.
"What residents urgently demand is that our governments solve their practical problems, such as ensuring that what they eat is safe and providing easy access to doctors, instead of supplying fancy but useless services," said Wang Jingbo, a law professor at China University of Political Science and Law.
She made the remark on Thursday, as the university issued a report on people's satisfaction with government work. The survey was conducted in 100 cities nationwide between Jan 15 and March 15. Results were based on a total of 76,969 questionnaires, of which 36,148 were from ordinary residents. The rest were from those who had come to governmental departments to deal with administrative affairs, and from experts, including judges, lawyers and law professors.
Among ordinary people, food safety and medical care garnered the most complaints, the report said.
"The result means residents didn't get better services, or they still had problems in those two aspects," Wang said.
Jia Zhu, an employee of a fashion company in Beijing, shared her unpleasant experience at a hospital last week with China Daily.
"I never thought I would have to go to the hospital three times to have my 3-year-old son's eyes checked," she said. "We weren't told we needed an eye test first until we had waited for a doctor for a long time."
"Why couldn't the hospital tell me what I needed to do when I arrived?" she asked. Procedures and materials needed should be explained at the beginning, she said.
Zong Zheng, an employee at a Shanghai publisher, was concerned about food safety.
"I'm worried about where our food and drinks come from, especially when some food is found to have problems," he said. "I want to know and should be informed about the raw materials used in the food when I go out to eat or to a supermarket."
He said he hopes the government will open the food sources to the public in a timely manner, "making their supervision transparent and providing us with quick channels to report", he said.
Wang Xiang, who conducted the survey, suggested governments should to be clear about what the public urgently needs, and then solve the problems in accordance with their demands.
"When residents can see their difficulties solved, they will be more satisfied with the government," he said, adding that the country's efforts to improve the rule of law will be seen as progress if public satisfaction is increased.