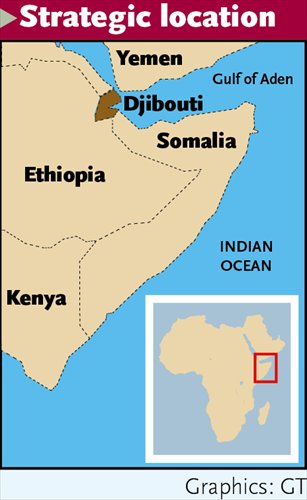 China's first overseas logistic base for warships is being built in the East African nation of Djibouti. As bilateral trade with African countries grows, the base will help China better safeguard its national interests and manage the increasing peacekeeping responsibilities it is taking on in the continent. But experts say the base may not be limited to resupplying ships in the future.
About 7,700 kilometers away from Beijing, in Djibouti in the Horn of Africa, China's first overseas installation for naval vessels is under construction.
Scheduled to be completed in 2017, the base is set to resupply Chinese warships, according to government statements.
But despite Beijing's insistence that the facility will simply help with escort missions, peacekeeping and humanitarian rescues in the Gulf of Aden and the waters off Somalia, many have argued this move represents Chinese "military expansion" beyond the Asia-Pacific region.
"Through exaggerating or distorting, they attempt to hype the 'threat of China' and tarnish China's image, so as to suppress China's efforts to build maritime power," Li Jie, a Beijing-based maritime expert, told the Global Times.
"The base is far less than a military base in its scale and function," said Zhang Junshe, a researcher from PLA Naval Military Studies Research Institute.
"The base will be a logistic hub for Chinese vessels to get replenishment and temporary rest. It differs from U.S.-style military bases, which have become bridgeheads for the country to easily and quickly wield military deterrence or intervention to other territories," Li noted.
The Republic of Djibouti, located in a strategically important position between the Indian Ocean and the Red Sea, hosts the military facilities of several countries, including the U.S., Japan and France, the country's former colonial ruler. Italy and Spain also have permanent military installations in the country, according to a recent report by Hong Kong-based Phoenix TV.
These countries have stationed a variety of assets in these bases, including personnel, ships, UAVs and surveillance aircraft which are used for anti-terror and anti-piracy operations in Africa and the Middle East.
International obligations
The news that China will build a "military base" in Djibouti was first revealed in May last year, when Djiboutian President Ismail Omar Guelleh told AFP that "discussions are ongoing," and China's presence would be "welcome."
Since then, it has aroused wide attention and concern. The U.S. even reportedly protested against it.
"Washington protested against the China-Djibouti pact and expressed concern over China's plans to build a military base in the Obock region, but to no avail," according to an article published in April on foreignaffairs.com, a U.S.-based international affairs news portal.
At a regular press briefing on November 26, 2015, China's foreign ministry first confirmed that China was negotiating with Djibouti over the construction of a "logistics facility." Spokesman Hong Lei citied the need to resolve resupply difficulties for Chinese escort vessels, adding "[The facility] will be significant for Chinese army to fulfill its international obligations and safeguard global and regional peace and stability."
Three months later at a press briefing by Chinese defense ministry on February 25, spokesman Wu Qian told media that China had reached an agreement with Djibouti to build a facility and construction had already begun.
According to official figures, China has deployed more than 30,000 personnel on peacekeeping missions, the most of any of the five permanent members of the UN Security Council.
Since 2008, China has sent 22 escort fleets, a total of more than 60 vessels, to the Gulf of Aden and Somali waters, escorting more than 6,000 ships from home and abroad.
In March last year, hundreds of Chinese nationals threatened by escalating violence in Yemen were evacuated to Djibouti by their government.
But currently, these fleets need to dock in the ports of other countries to get rest and food supplies. "They need to organize people to purchase food locally. Besides, due to different types of fuels, refueling is also a problem," Zhang said.
The new base will help China save money. Yang Huawen, a captain from China's Northern Theater Command who joined a 10-month peacekeeping operation in Mali in 2014, is happy this facility is being built.
"In those tropical areas, the food goes bad quickly. The cost of mending equipment and maintenance is high," Yang told the Global Times. "Building a logistic hub in the region can provide stable supplies efficiently and economically."
Djibouti, with a landmass of 23,200 square kilometers of which 90 percent is volcanic desert, is poor in natural resources. Its ability to produce fruits, vegetables, and seafood is limited, according to a Chinese national who has spent time in the country. "Most of its vegetables are imported from its neighbor Ethiopia. Vegetables sell for there as much as five to 10 times what they do on the domestic market in China," said the person.
Zhang also cited another advantage of the new facility - the Chinese government needn't conduct diplomatic negotiations with the host country each time its vessels dock in their port.