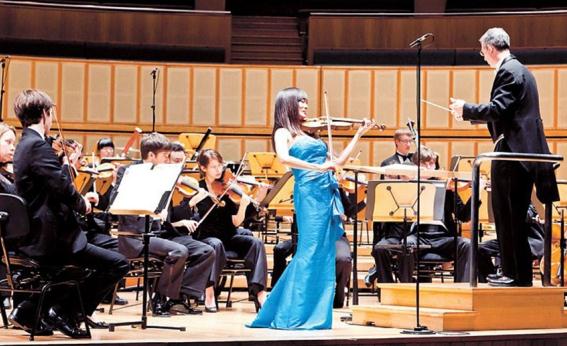 Singaporean violinist Lee-Chin Siow is one of the finest violinists of her generation, performing to critical acclaim in more than 20 countries.
There are two very important people in 40-year-old Singaporean violinist Lee-Chin Siow's life.
Hee-Shun Siow, her father who taught her how to play the violin, and Yuen Peng McNeice, who helped her pursue her dream in music by sponsoring her study at the Curtis Institute and Oberlin Conservatory of Music.
The violinist embarked on her international career as a soloist after winning the gold medal at the Henryk Szeryng International Violin Competition in 1994. She then distinguished herself as one of the finest violinists of her generation, performing to critical acclaim in more than 20 countries on five continents, from London's Carnegie Hall to Japan's Osaka Symphony Hall.
"I wouldn't be me without them. They gave me a lot, more than what money can buy, it is all about love and belief," says Siow.
Siow remains grateful to this day. She made an album titled "Songs that My Father Taught Me" in 2009 as a special present for her father. She played the songs in the studio in front of him — a private recital for one. The album topped HMV's classical music charts.
"When I finished, I asked him, 'Was it OK?' He said, 'Yes, it is good.' At that moment, I felt success and free of any burden about the album's potential sales. All that I needed was the praise from one single person — my father, whom the record was made for in the first place," Siow says.
Born into a family of musicians, Siow started playing violin at age seven. Like many other children, she hated it at first as it took time away from playing. Rather than forcing her to play, her father took Siow to his small ensemble composed of all his students.
Witnessing all the other children playing well, Siow started to practice di ligently to catch up. Her father also encouraged her to participate in various violin competitions to help her set periodic goals and get a sense of achievement.
"He was really a great teacher. He knew how to get his students interested in music and encouraged them to work hard to reach their goals," says Siow. Her father never insisted on her winning competitions, just working hard to continually improve.
"He always told me, all that you need to care about is ploughing and weeding. Don't worry about the harvest now, it will come," says Siow. "This is also what I tell my students when they worry about whether they can make money by playing the violin, or whether they are suitable for the career."
And her talent for music quickly grew under her father's guidance. She started playing concerts with the Singapore Symphony Orchestra alongside her father at 11, and got the chance to play for great soloists in the master classes.
Her performance of Paganini cadenza to a concerto impressed violinist Aaron Rosand. It opened a door to the Curties Institute as its first Singaporean student.
Just when the family was hesitating over the high tuition fee, McNeice, who happened to know a friend of Siow's father, came to help. After listening to Siow's performance at her humble home, she together with the Loke Cheng-Kim Foundation Board agreed to sponsor her studies even though they had never done it for a music major student. And McNeice also gave Siow a violin. They have kept in touch ever since.
"I'm so grateful for her help and I asked her how I could pay her pack. She replied, 'You don't have to pay me back, darling. Just pass it on, to love and help others realize their dreams'," says Siow.
Apart from performing worldwide, Siow is very passionate and committed to teaching as a way to pass the love of music to others. She has served as tenured professor and Director of Strings Program at the College of Charleston, USA, visiting professor at the Oberlin Conservatory, and given masterclasses and outreach programs all over the world.
Though Siow has always known she would one day return to Asia and help more music students realize their dreams, it was not until 2012 when both her father and McNeice passed away that she started a new chapter in her life.
"Their passing away was like a bell ringing. It made me realize what I had promised. It was like now or never," says Siow.
Siow joined the Suzhou University School of Music as professor of violin in 2013 and organized the 2014 China-Singapore Young Talents Competition.
"It was like an adventure to suddenly move most of my life and work here from the US, but it's been worth it since I have witnessed great passion for music among the young," she says.
Siow now has about a dozen students in Suzhou, ranging from five to 22 years old. Passion for music, potential for stage performance and independent thinking are three essential criteria for Siow when selecting students.
"I don't like students who just copy what the teacher does," she says. "I like them to make the music convincing by showing their own understanding of the music. Rather than telling them how to play Bach, I encourage them to listen mindfully to more of Bach's other works to learn about his characteristics and styles. It's like communicating with the composer 200 years ago. Take in every note, digest them and then present them again as a beautiful melody."
A background in music is not just important for professionals and those who want to become musicians, according to Siow.
Exposure to classic music especially to a particular instrument practice can help a child learn persistence, patience and passion.
"Music is never an instant reward," Siow says, "It usually takes a musician at least 1,000 hours to achieve a successful stage performance of a three-minute piece. It may sound ridiculous for most businessmen, but it is natural yet precious for most music practitioners."
When Siow visited her father in the final stages, he could not recognize her due to illness. She played one of his favorite songs and saw tears well up in his eyes.
"He recognized me through music," she says. "The very gift he gave me."