(ECNS)-- China welcomes U.S. and other foreign companies to access the Chinese market, share development dividends and work together for a stronger world economy, Foreign Ministry spokeswoman Mao Ning said on Wednesday.
The spokeswoman made the remarks at the regular press conference following a report that says many U.S. companies plan to expand their business in China as they foresee a post-COVID economic rebound.
The American Chamber of Commerce in South China (AmCham South China) recently released its 2023 White Paper on the Business Environment in China, which noted that more than 90 percent of the participating companies select China as one of the most important investment destinations and 75 percent of the companies plan to reinvest in China in 2023.
Mao said these facts show that China remains a popular destination for foreign investment and this is because China has a huge market and full-fledged industrial and supply chain networks. "It is also a result of our relentless effort to advance high-level opening up, our support for the multilateral trading system and a market-oriented, world-class business environment governed by a sound legal framework," she added.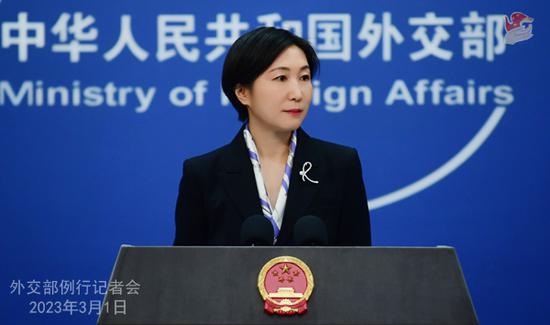 Chinese Foreign Ministry spokeswoman Mao Ning speaks at a press conference in Beijing on March 1, 2023. (Photo/fmprc.gov.cn)
The paid-in foreign investment reached 127.69 billion yuan, up 14.5 percent year on year, according to the spokeswoman.
Statistics from the U.S. Department of Commerce showed that total trade in goods between the U.S. and China hit a record $690.6 billion in 2022.
"All this speaks to the fact that trade and investment cooperation between China and the U.S. are mutually beneficial and win-win. Decoupling and cutting off industrial and supply chains benefits no one. It has no support and will not lead anywhere," she said.
No matter how the international landscape may change, we will not waver in our resolve to open wider at a high standard and our determination to share development opportunities with the rest of the world.