(ECNS) -- Chinese Foreign Ministry spokeswoman Mao Ning on Wednesday urged the U.S. to respect science and facts, stop its intelligence-led, politics-driven origins-tracing of COVID-19, and stop undermining international solidarity against the pandemic and global cooperation on science-based origins-tracing.
Mao made the remarks at a news briefing when asked about her comments on FBI Director Christopher Wray's claim that COVID-19 "most likely" came from a Chinese lab leak.
The spokeswoman stressed China always supports and participates in science-based global origins-tracing of COVID-19, and the origins-tracing is a complex matter of science, so the study should be and can only be conducted jointly by scientists around the world.
She pointed out that "a laboratory origin of the pandemic was considered to be extremely unlikely" is a science-based, authoritative conclusion reached by the experts of the WHO-China joint mission after field trips to the lab in Wuhan and in-depth communication with researchers. "It was accurately recorded in the mission's report and has received extensive recognition from the international community and the science community."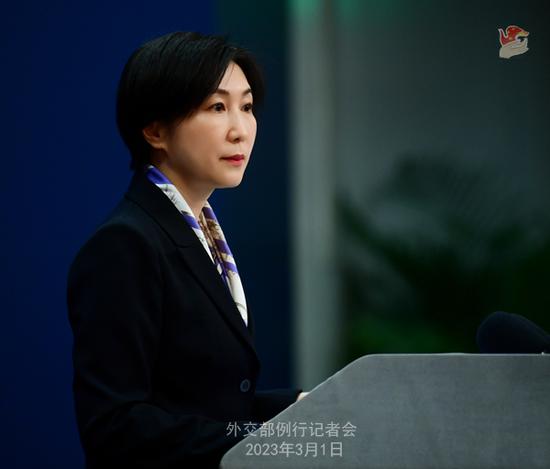 Chinese Foreign Ministry spokeswoman Mao Ning speaks at a press conference in Beijing on March 1, 2023. (Photo/fmprc.gov.cn)
At present, more and more clues from the international science community are pointing the origins of virus to sources around the world and many have raised questions and concerns about U.S. bio-military bases at Fort Detrick and around the world, she added.
The U.S. should work with the WHO to invite experts from the world to the U.S. for origins-tracing study as soon as possible, and share the research result with the international community in a timely, open and transparent manner, Mao said. "Putting the intelligence community in charge for a matter of science is a clear sign that the issue has been politicized."
"Given the U.S. intelligence community's track record of making up stories, there is little, if any, credibility in their conclusions. The U.S. will not succeed in discrediting China by rehashing the "lab leak" theory, but will only hurt the U.S.'s own reputation," she said.