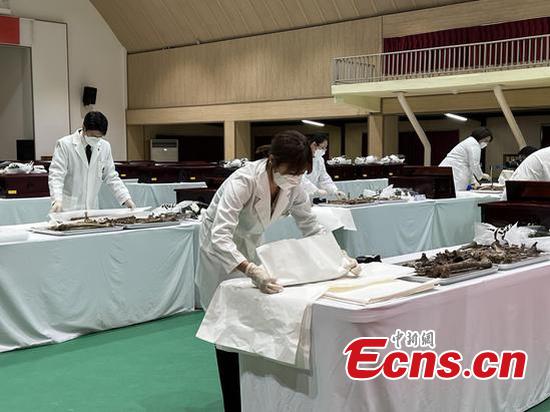 Staff members put the remains of the Chinese People's Volunteers martyrs into coffins in Inchon, the Republic of Korea, Sept. 15, 2022. (Photo/China News Service)
(ECNS) -- The remains of more Chinese People's Volunteers (CPV) martyrs killed in the War to Resist U.S. Aggression and Aid Korea (1950-53) will be returned to China from the Republic of Korea (ROK) from September 14 to 17.
An encoffining ceremony was held in Incheon on Thursday.
The Chinese delegation led by Vice Minister of Veterans Affairs Chang Zhengguo and the ROK delegation led by its Defense Ministry officials attended the ceremony.
A handover ceremony will be held on Friday.
It will be the ninth repatriation of the remains of CPV martyrs following the signing of a handover agreement between China and the ROK.
Between 2014 and 2021, the remains of 825 soldiers were returned to China from the ROK, according to official figures.