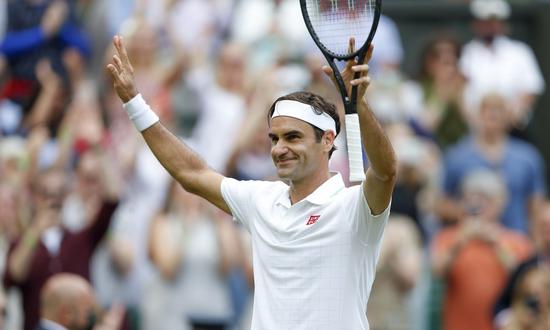 Roger Federer of Switzerland celebrates after the men's singles third round match against Cameron Norrie of Britain at Wimbledon tennis Championship in London, Britain, July 3, 2021. (Xinhua/Han Yan)
Swiss tennis icon Roger Federer announced on Thursday that he will retire from Grand Slams and the ATP Tour after the Laver Cup next week.
In a video posted on social media, the 20-time Grand Slam winner said that injuries and surgeries over the past three years have presented him with big challenges.
"I've worked hard to return to full competitive form. But I also know my body's capacities and limits, and its message to me lately has been clear," said the legend, who has not played since Wimbledon last year.
"I am 41 years old. I have played more than 1,500 matches over 24 years. Tennis has treated me more generously than I ever would have dreamt," he added.
Federer, widely regarded as one of the greatest tennis players of all time, made his professional debut in 1998 at 16 years old, before winning his first Grand Slam title at Wimbledon in 2003.
In 2009, he took his 15th Grand Slam title at Wimbledon, surpassing his idol Pete Sampras to become the most decorated major title winner until 2022. Only Spain's Rafael Nadal (22) and Novak Djokovic of Serbia (21) have more Grand Slams than him.
After thanking his family, team members and fans, Federer said that retirement only means he will leave the Grand Slams and the ATP events, but he will "play more tennis in the future."
"To the game of tennis: I love you and will never leave you," he said.