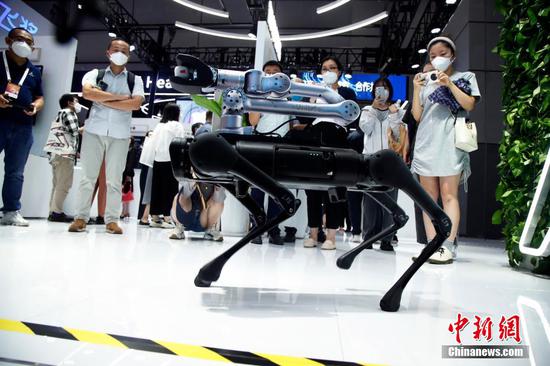 Photo shows a robot at the 2022 World Intelligence Conference. (Photo/China News Service)
(ECNS) -- China's spending on research and development (R&D) is expected to exceed three trillion yuan (about $434.7 billion) in 2023, said an official report jointly released by the National Bureau of Statistics, Ministry of Science and Technologies, and Ministry of Finance on Wednesday.
According to the report, China's total expenditure on R&D amounted to about 2.8 trillion yuan in 2021, up 14.6 percent year on year.
The investment in basic research increased steadily last year, standing at 187.17 billion yuan, a year-on-year increase of 23.9 percent, and the largest growth in nearly 10 years. Meanwhile, R&D investment from enterprises exceeded 2 trillion yuan, accounting for 76.9 percent of the total R&D spending, ranking second in the world.
The report also pointed out that local expenditure on R&D has reached a record high, with investment of 11 provinces and municipalities surpassing 10 billion yuan, among which Guangdong, Jiangsu, Beijing, and Zhejiang have spent over 20 billion on R&D.
The scale of R&D funds in these areas is comparable with that of some developed western countries.
In addition, in 2021, national fiscal expenditure on science and technology reached 1,076.67 billion yuan, with 65 percent of the total stemming from local fiscal expenditure, or 697.18 billion yuan, an increase of 10.0 percent over the previous year.