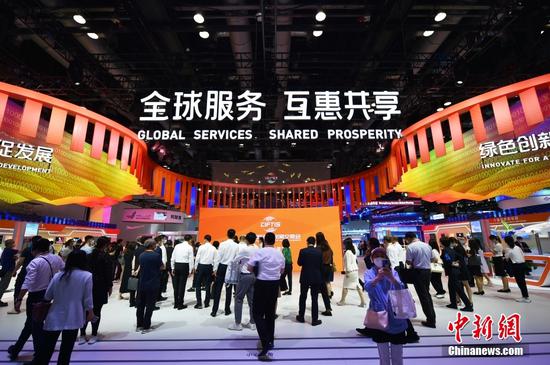 The 2022 China International Fair for Trade in Services is held in Beijing, August 31, 2022. (Photo/China News Service)
(ECNS) -- The 2022 China International Fair for Trade in Services (CIFTIS) kicked off in Beijing on Wednesday, with advanced technologies the highlight.
Eight Chinese enterprises engaged in logistics business including EMS, Meituan, and Shunfeng have showcased new technologies and equipment at the CIFTIS, such as automatic delivery vehicles, drones and indoor robots in the logistics and distribution fields.
Nine high-tech exhibits developed by Meituan to serve end distribution of goods were on display at the courier service exhibition area. The enterprise has achieved complete automation of warehousing, sorting, packaging, and distribution relying on AI, big data, and robot technologies.
Automatic delivery vehicles and drones have been widely used by the company to distribute goods within three kilometers, with smart equipment to help entity businesses of 2,800 cities and counties with effective delivery services.
As enterprises are in urgent need of digital transformation, the Internet of Things, AI, edge computing, cloud computing, and other technologies have provided support for this process.
Jingdong, with its competence in intelligent supply chains, has broken through barriers linking the entire industrial chain including in technology, finance, logistics, and retail, establishing an integrated, intelligent supply chain system covering the food price index, an urban industrial service platform and supply chain financial technology platform.
In addition, a 22,200-square meter offline exhibition area for sport services has been built at the CIFTIS, which allows people to experience how technologies facilitate the development of sports through immersive, interactive activities.
Construction of the comprehensive transportation hub of Beijing's sub-center Station and Jiangtai Station on Line 14 can be viewed through livestreaming by an intelligent production and command center at the exhibition area of Beijing Construction Engineering Group.
What's more, during the CIFTIS, an exhibition area for the Metaverse covering about 10,000 square meters will showcase the whole technology system comprised of bottom technology, a common ability, application system, and scenes construction.