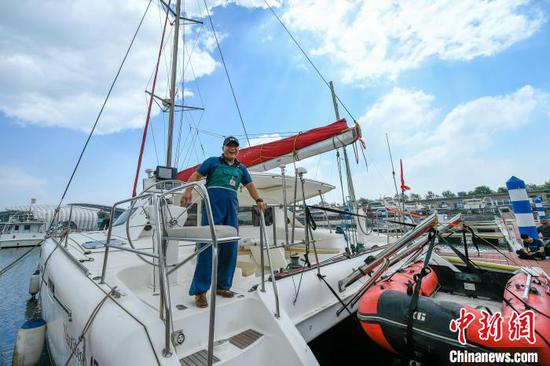 Chinese maritime explorer Yang Jianxin embarks on his journey to the North Pole, June 23, 2022. (Photo/China News Service)
(ECNS) -- Chinese maritime explorer Yang Jianxin took a 47-foot catamaran with a single sail and started his no-stopping, no-replenishment solo sailing round trip from Tangshan, Hebei Province, to the North Pole, on Thursday.
There was no person in history navigating this route with a single sail on his or her own.
Yang Jainxin, 53, will enter the Sea of Japan first through the Yellow Sea and Tsushima Strait from Tangshan. Then he will pass through the North Pacific, the Bering Sea, the Arctic Ocean, and finally arrive in the Barrow Strait waters after crossing the Arctic Circle. After arriving at the destination, Yang will return to Tangshan without rest.
The round trip of 9,000 nautical miles will take about 4 months.
"The Bohai Sea is crowded with ships so I can't rest normally. The Sea of Japan is stormy in summer while the Bering Strait is cold and humid with fog and known as one of the worst sea areas in the world. There will be many unexpected situations along the way, so I need to be vigilant at all times to respond quickly with knowledge, wisdom and boldness," said Yang.
Before the sail, Yang said he has a bigger dream, which is challenging the voyage around the world after finishing this trip.
Yang Jianxin used to be an archer and has been participating in maritime extreme sports since 2008 when he watched sailing and windsurfing competition held during the Beijing Olympic Games and was captivated by it.
Yang has crossed the Bohai Sea from Tangshan to Dongying in Shandong Province for three times by a small trimaran, windsurfing and kayaking respectively during his over a decade of sailing.
He has finished a single sail voyage of more than 2,500 nautical miles looping the Chinese waters by a 33-foot keel sailboat without stopping or replenishment. This journey starting from Tangshan International Tourism Island lasted 32 days.