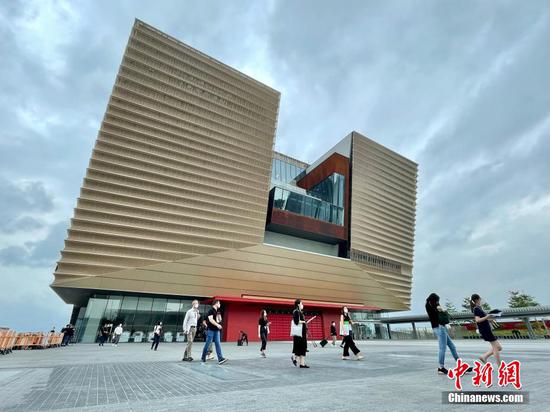 Photo shows the appearance of the Hong Kong Palace Museum, May 10, 2022. (Photo/China News Service)
Special: 25th Anniversary of Hong Kong's Return to The Motherland
(ECNS) -- A total of 914 cultural relics from the collection of the Palace Museum in Beijing are to be on display in the Hong Kong Palace Museum.
This is the largest as well as the highest-level exhibition the Palace Museum in Beijing has ever held beyond the Chinese mainland.
The Hong Kong Palace Museum to open to the public on July 2 is the first cooperation project of the Palace Museum in Beijing outside the mainland.
The collections will debut in the seven of the nine exhibition halls of the Palace Museum in Hong Kong, presenting paintings, calligraphy works, bronze wares, ceramics, gold and silver wares, enamels, jade, lacquerwares, glass, imperial seals, embroidery, jewelry, sculptures, books and classics, ancient architectural collections, etc.
Among this cultural relics, a total of 166 are national first-level protective treasures, accounting for 18 percent of the total collections.
These cultural relics will be on display for one to 12 months and some of them will be exhibited on rotation based on "safety first" principle.
At present, over 70,000 tickets, or more than half of the total tickets have been sold already.
The Palace Museum in Hong Kong has planned a series of exhibitions, academic activities, education projects, talent exchanges and more to give full play to its culture popularization and education functions.