(ECNS) -- China-U.S. pair Lin Gaoyuan and Lily Zhang failed to advance in the mixed doubles semifinal of 2021 World Table Tennis Championships in Houston on Sunday, but their collaboration stands to transcend sports, as confirmed by both players and the Chinese Table Tennis Association (CTTA) president.
The match took place during the 50th anniversary of "Ping-pong diplomacy" between China and the United States.
China's Lin Gaoyuan and Wang Manyu had officially partnered with American players Lily Zhang and Kanak Jha, respectively, moments prior to the registration deadline.
Lin and Zhang lived up to expectations and advanced to the mixed doubles quarterfinals after Jha and Wang were knocked out. Despite missing out on the final, Lin and Zhang are assured of at least a bronze. It was the first time that a U.S. player had won a world table tennis medal since 1959.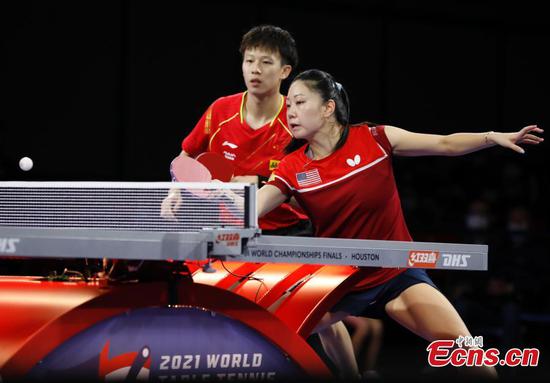 Lin Gaoyuan of China (L) and Lily Zhang of the United States compete during the mixed doubles semifinal match at 2021 World Table Tennis Championships in Houston, the United States, Nov. 28, 2021. (Photo: China News Service/Liu Guanguan)
This precious bronze not only belongs to Lin and Zhang for their efforts during the six-day event, but also leaves a distinct mark in the history sports in both China and the U.S.
"It was a rare opportunity to team up with a world champion," said Kanak, adding it was also a great and valuable learning experience.
To Liu Guoliang, president of the CTTA, the significance of the pairings also surpassed results.
"People will take it as a glory in the history of table tennis if the friendship between China and the U.S. could be transmitted via the interaction of Ping Pong players," Liu commented.
"After 10, 20, 30 years, when people talk about the 50th anniversary of 'Ping-pong diplomacy' between China and the U.S., they will remember the first pairings of Chinese and U.S. players. They will remember Lin Gaoyuan, Wang Manyu, Lily Zhang and Kanak Jha," he added.
"I really appreciate those who support us, including both Chinese and American fans. It is a sport, but it is also more than that. It is a message of hope to the world that we can live together in peace, and cooperate and communicate," Zhang said after the match.
"We (Chinese players) could choose to win all the championships and help the development of table tennis around the world. It's a very good move to popularize Chinese table tennis and sportsmanship to the world," Liu noted.
The pairing of Chinese and U.S. players at World Table Tennis Championships is believed to have be a successful endeavor, showing how China could play a positive role in international table tennis affairs, and become a model of cooperation and development.
The International Table Tennis Federation (ITTF) resumed the rules in 2015 that allows "cross-association teams" to participate in World Table Tennis Championships.
The CTTA has often teamed up Chinese and foreign players and achieved many great results. In 2015, pair Xu Xin and Liang Xiayin won the mixed doubles gold, while in 2017, China-Germany pair Fang Bo and Petrissa Solja won third place in the mixed doubles.