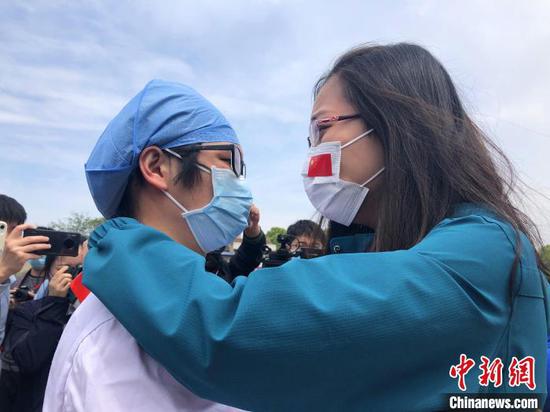 Doctors from Peking Union Medical College Hospital and Wuhan Tongji Hospital say farewell in Wuhan, Hubei Province, April 14, 2020. (Photo/China News Service)
Special: Battle Against Novel Coronavirus
(ECNS) -- The last medical team who has assisted Hubei Province in fighting the novel coronavirus outbreak left Wuhan City on Wednesday, indicating a great victory in the war against the epidemic.
Medics from Peking Union Medical College Hospital returned to Beijing after a warm see-off.
The hospital had sent 186 medical staff to support Hubei since Jan. 26. Their main task lay in treating severely or critically ill patients.
They took over an intensive care unit in Wuhan Tongji Hospital, where 109 severe patients were treated and improved.
Six team members will remain in Wuhan to assist critically ill patients, said Han Ding, vice president of Peking Union Medical College Hospital.
Altogether, over 42,000 medics from 346 assisting teams across China have returned from Hubei Province.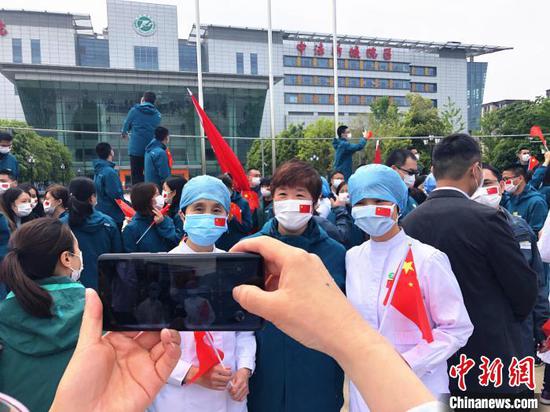 Doctors from Peking Union Medical College Hospital and Wuhan Tongji Hospital pose for photo before saying farewell in Wuhan, Hubei Province, April 14, 2020. (Photo/China News Service)