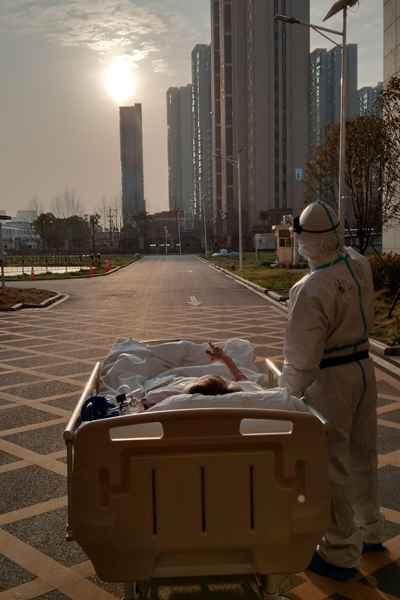 A coronavirus patient and doctor watch sunset outside a hospital in Wuhan, March 5, 2020. (Photo courtesy of Zhongshan Hospital affiliated to Fudan University)
Special: Battle Against Novel Coronavirus
(ECNS) -- A 87-year-old patient played French composer Jules Massenet's Meditation to salute the medical team who had saved his life and fought the novel coronavirus in Wuhan, Hubei Province.
On Wednesday, the medical team of 136 members from Zhongshan Hospital, affiliated to Fudan University, returned to Shanghai after more than 50 days of hard work at Renmin Hospital, designated to receive seriously and critically ill patients.
A total 119 seriously-ill patients have been discharged thus far, with the rest to be transferred to other hospitals for further treatment.
Yet, nearly a month ago the critically-ill violinist had refused to cooperate with treatment procedures, forcing medics to gradually build up trust.
On March 5, on the way to a CT scan, the 87-year-old man's doctor, Liu Kai, asked him if he would like to stop for a moment to watch the sunset and the patient agreed.
Another medical assistant took the picture as they were enjoying the moment and the photo soon went viral on social media.
Medical staff later adjusted treatment according to the old man's condition, which has improved to the extent he may soon leave hospital.
On March 30, the patient, a professor at Wuhan Conservatory of Music and violinist in Wuhan Philharmonic Orchestra, played the violin for the medical team in thanks before their return to Shanghai.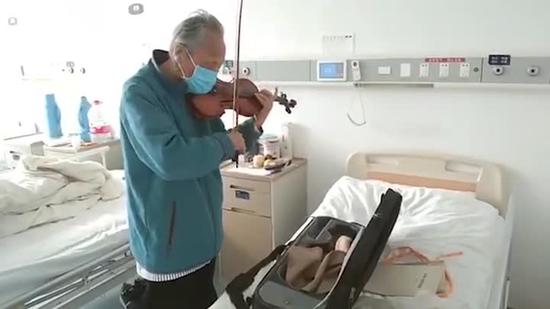 The 87-year-old patient plays the violin in the ward to salute the medical team who has saved his life. (Photo/ Screenshot on CNSTV)