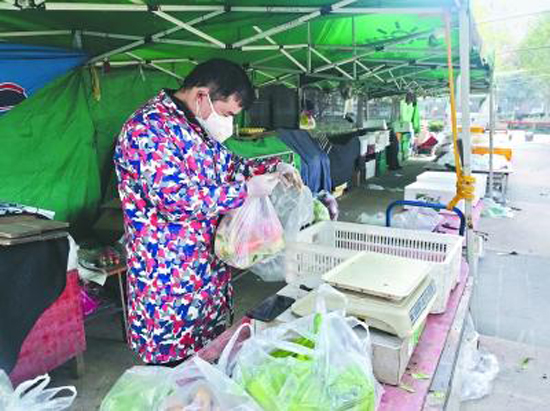 A supplier delivers vegetables at a community in Hankou, Wuhan City, Hubei Province. (Photo/Changjiang Daily)
Special: Battle Against Novel Coronavirus
(ECNS) -- Nearly 10,000 residents in Hankou, Wuhan City, the center of the coronavirus epidemic, can buy vegetables without leaving their communities as local service departments cooperate with vegetable suppliers.
Orders are collected through WeChat and sent to vegetable suppliers so that they can prepare orders in advance, which has greatly reduced the chance of contact or contamination, Changjiang Daily reported on Tuesday.
"Orders are collected from the community WeChat and information is gathered and sent to me. Then we pack and deliver the vegetables according to the needs of each household," said Wang Linjun, a vegetable supplier.
"Our community is doing so great during this unusual period. Our community will send out notices via Wechat, telling us in advance that vegetables are coming. We will go downstairs," a woman offered the service high praise.
Supplies of daily necessities across the country remained ample with stable prices, the Ministry of Commerce said Monday.
Hubei Province reported 2,345 new confirmed cases of coronavirus infection and 64 new deaths on Monday, with its capital Wuhan reporting 1,242 new confirmed cases and 48 new deaths, according to local health authorities on Tuesday.