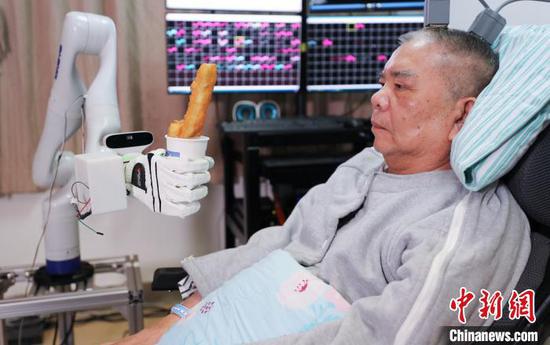 Zhang, who is completely paralyzed, moves a fried dough stick with his thoughts with the help of brain-computer interface. (Photo provided to China News Service)
(ECNS) -- Zhejiang University announced on Friday the success of China's first brain-computer interface (BCI) implant.
A man surnamed Zhang, 72, was completely paralyzed in a car accident two years ago, but the human-machine interface technology has helped him do what he couldn't before.
After training, he can now control external robotic arms and manipulators with his thoughts to shake hands, carry drinks, eat fried dough sticks and play mahjong.
The brain machine interface establishes a new communication and control pathway between the brain and external devices such as artificial limbs, so that brain signals can control the external devices by computer interpretation if the spinal cord and neuronal pathways are damaged but the cerebral cortex is still functional.
The implantation was jointly completed by Zhejiang University and the Second Affiliated Hospital Zhejiang University School of Medicine (SAHZU).
Micro-electrode array were inserted directly into the motor cortex to detect the discharge frequency of individual neurons, with acquired signals duly stabilized, said Wang Yueming, a key member of the research team.
It also proved the feasibility of using an implantable brain machine interface in elderly patients, Wang said.
Clinical applications of this research will be further extended to language, sensation, cognition and other more complex functional reconstruction, said Zhang Jianmin, director of Neurosurgery at the SAHZU.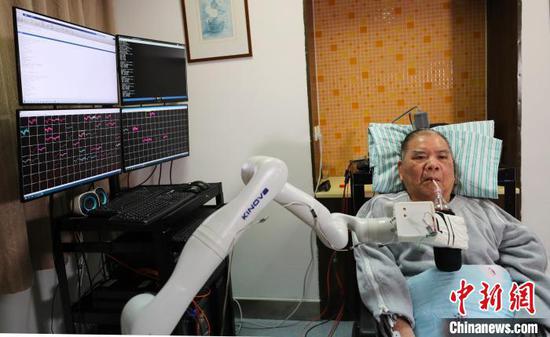 Zhang, who is completely paralyzed, moves drinks with his thoughts with the help of brain-computer interface. (Photo provided to China News Service)