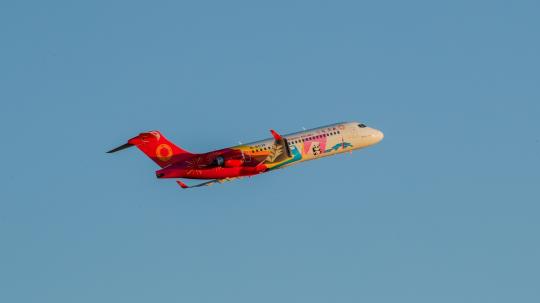 An ARJ21 aircraft operated by Chengdu Airlines takes off from Harbin, Heilong Province, to Vladivostok of Russia on Oct. 26, 2019. (Photo/ China Daily)
(ECNS) -- The ARJ21, China's first homebuit regional passenger jetliner, won first prize at the State Preeminent Science and Technology Awards 2019 in Beijing on Friday.
The ARJ21 is China's first domestically developed turbofan regional jetliner, with full intellectual property rights, said manufacturer Commercial Aircraft Corporation of China.
It took the project team over 10 years to reach a breakthrough in airworthiness technology of civil aircraft.
The jetliner conducted its maiden flight in Shanghai during November 2008 and obtained certification from the Civil Aviation Administration of China in 2014.
So far, 22 ARJ21 jetliners have been delivered to customers, which fly between 38 cities on 37 routes, safely transporting more than 690,000 passengers.