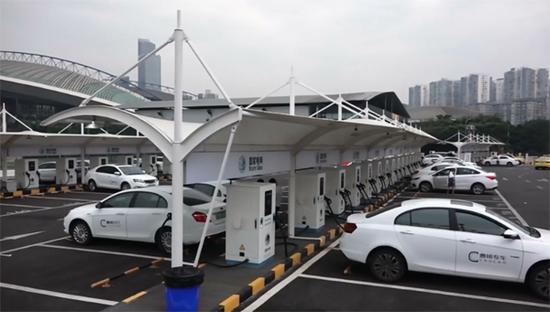 Electric cars stop at a charging station in Beijing. (Photo/Screenshot on CNS TV)
Special: 70th birthday of PRChina
(ECNS) -- Beijing plans to replace nearly 20,000 taxis, about 20 percent of the total, with electric cars by the end of 2020 as part of efforts to cut air pollution, according to Beijing Municipal Commission of Transport.
All newly registered or replaced taxis have to be electric, according to the national policy, as Beijing gradually replaces all gasoline-powered vehicles in the fleet over a three-year period.
The new electric cars, equipped with more sophisticated technologies, have a driving range of 350 kilometers, more than double that of electric taxis first used in 2011 across the capital.
Beijing will install charging stations every 5-10 kilometers within the 5th Ring Road, allowing a taxi driver to replace a charged battery within three minutes and complete the payment via an app.
The commission said the number of stations would rise from the current 47 to 194 by 2020, mainly built around large residential areas and airports.
Passengers using electric cars no longer need to pay an additional one yuan ($0.14) taxi fuel surcharge designed to ease the burden on taxi drivers when oil prices increase.