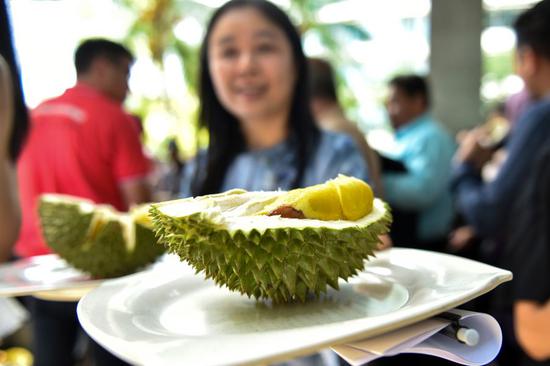 Durians are served at the flag-off ceremony of the first batch of Malaysian whole frozen durian to China, in Putrajaya, Malaysia, June 17, 2019. (Xinhua/Chong Voon Chung)
Special: The Second China International Import Expo
Hosting the China International Import Expo (CIIE) demonstrates China's commitment to promote shared prosperity and mutual benefits with its partners, said Malaysian International Trade and Industry Deputy Minister Ong Kian Ming.
He believed the upcoming second CIIE in November will provide an opportunity for Malaysia to showcase its products and the country as a destination for Chinese investment.
"This expo shows China's commitment to promote the agenda of mutual benefits and shared prosperity with its trading partners," Ong told Xinhua in a recent interview.
"This expo will help increase two-way trade between Malaysia and China and expose more Malaysian products to Chinese customers, especially those from provinces which may not be so familiar with Malaysian products and services," he added.
Ong, who will lead the Malaysian delegation for the second CIIE, said the expo would give Chinese consumers a greater idea of what the country offered while boosting the profile of Malaysian products.
While Malaysia is relatively well-known in China because of food and beverage, as well as tourism, the country also aims to be well known as a strategic location for investments and industry, he said.
Besides durian, white coffee, bird's nest, among other products that Chinese consumers are familiar with, Malaysia is one of the world's major palm oil producers and exporters, with Ong saying the country would show its palm oil and related products, besides lesser known tourist sites in the Northern Borneo states of Sarawak.
The official highlighted the recently announced Malaysian Budget 2020 that proposes to provide specialized channels for investment from China.
"I will use the opportunity of the expo to talk to potential investors in some strategic areas and invite these investors to come to Malaysia to invest in these areas. We are also focusing on specific industries and enterprises, especially high-tech and electronics companies that attract south China to expand their business to Malaysia," he said.
"We especially want to cooperate with Chinese companies specializing in artificial intelligence (AI), big data analysis, augmented reality and other industries in the field of industry 4.0."
The second CIIE will take place on Nov. 5-10 in Shanghai, after which the country exhibitions will be extended for eight more days and open to the public for free on Nov. 13-20.
Since 2009, China has been Malaysia's largest trading partner for 10 consecutive years.
According to Chinese data, bilateral import and export volume of China and Malaysia was 11.44 billion U.S. dollars in September, a year-on-year increase of 14.9 percent. The total import and export volume in the first nine months in 2019 stood at 89.75 billion U.S. dollars, a year-on-year increase of 11.3 percent.