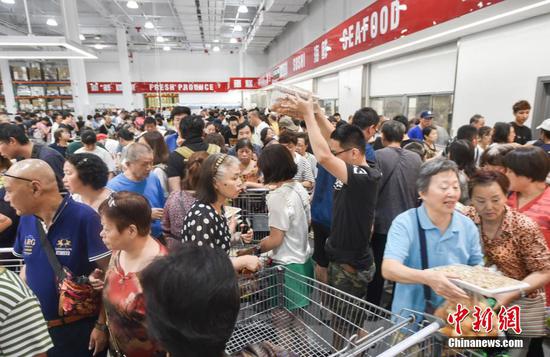 Shoppers flock to Costco Shanghai store on the its opening day. (Photo: China News Service/Shen Hai)
(ECNS) - American warehouse retailer Costco announced it would put a cap on the number of shoppers in its Shanghai store at 2,000 after mad rush of customers forced the first store in China to close early on opening day.
In a statement Costco apologized for any inconvenience caused to customers for the early closure on Tuesday, saying a limit on the number of shoppers is to ensure a comfortable and safe experience.
Local police will also assist the store to manage traffic nearby to minimize the impact on neighbouring communities while internal efforts are underway to improve customer flow inside the store, according to the statement.
Videos showing crowds clogging the store went viral on Chinese social media.