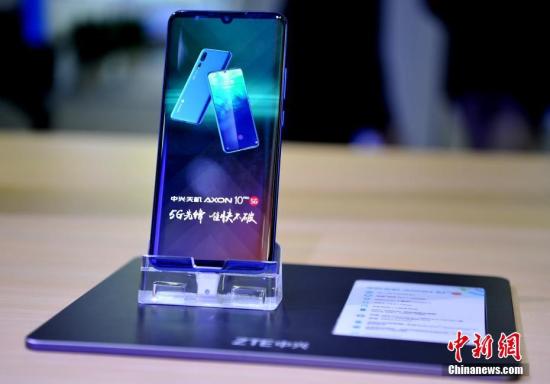 A smartphone of Axon10 Pro 5G produced by ZTE was displayed at an expo on May 7, 2019. (File photo/China News Service)
(ECNS) -- Commercial 5G mobile phones from four brands will make their debuts during the August 18 shopping festival held by China's e-commerce platform Suning.com.
Hou Enlong, CEO of the platform, said the smartphones are the Huawei Mate 20 X 5G, the vivo iQOO 5G, the Galaxy Note 10 5G edition, and ZTE's Axon 10 Pro 5G.
The Mate 20 X 5G phone will be launched in Shenzhen on July 26 before hitting the market in August, while customers can reserve an Axon 10 Pro 5G for purchase on Suning.com now, Hou said.
Data showed that searches for 5G mobile phones on e-commerce portal Tmall.com increased by 27 times, indicating a new wave of enthusiasm for handsets that match the next generation mobile network.
On Tuesday, Chinese telecom giant ZTE Corp announced that its 5G smartphones were available for reservation in China.
Wen Ku, a spokesperson for China's Ministry of Industry and Information Technology, said at a press conference that there are about 20 kinds of 5G phones planned to hit shelves in China.