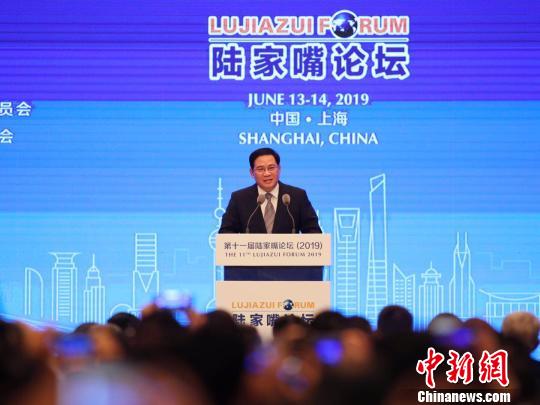 Li Qiang, Party secretary of Shanghai Municipal Committee, speaks at the 11th Lujiazui Forum in Shanghai, June 13, 2019. (Photo/China News Service)
Special: 70th birthday of PRChina
(ECNS) -- China's financial hub Shanghai has headed into the homestretch of its campaign to become an international financial center by 2020, Li Qiang, Party secretary of Shanghai Municipal Committee, said at the 11th Lujiazui Forum on Thursday.
Shanghai will advance financial reform and innovation in three ways -- building a more open financial market, developing more competitive financial functions and creating a more dynamic financial ecosystem, Li said.
Among the specific measures, the city will become a Belt and Road Initiative (BRI) investment and financing center as part of efforts to enhance its ability to allocate global financial resources.
In full cooperation with the China Securities Regulatory Commission and Shanghai Stock Exchange, it will accelerate the establishment of a sci-tech innovation board and switch from an approval-based IPO system to one of registration.
Meanwhile, Shanghai Free Trade Zone will spearhead experimental financial reforms and promote innovation in financial products, tools and technologies. Shanghai hopes to gather global financial resources and support innovation and development.
It will strive to host the headquarters of large financial institutions and attract financial talent from home and abroad as the city offers a more flexible environment for business innovation, Li said.
Efforts will also be made to develop Shanghai Financial Court, the country's first court specializing in handling finance-related cases, and strengthen risk monitoring and early warning to ensure healthy and stable development of the financial market, it was added.
The theme of this year's forum is "Accelerating International Financial Center Development and Promoting High Quality Economic Growth."