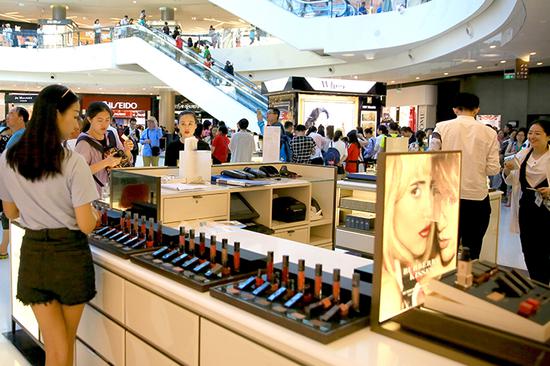 Consumers throng the Haitang Bay duty-free shop in Sanya, in the island province of Hainan. [Photo by Sun Qing/for China Daily]
(ECNS) - Women have become the main players in the Chinese consumer market and will continue making a crucial contribution to its growth, said Ren Xingzhou, former director of the Development Research Center of the State Council.
The women's market, or so-called "she economy," a new term recognized by China's education ministry, is expected to generate 4.5 to 5 trillion yuan ($669 to $744 billion) this year and up to 18 trillion yuan over the next decade, Ren said.
Data from the International Labour Organization shows that the participation of women in the labour force hit 48.5 percent globally in 2018—with the rate at 69.3 percent in developing countries—but China took the global lead with over 70 percent, said Ren.
Women are more likely to work in China because of their eagerness to fulfill self-value as they attain higher educational levels and contribute to the family income. Reports also show that women are usually the main decision-makers in family spending or investment in China.
As consumers, women are more likely to spend than men, using 90 yuan out of 100 for purchases. In the Double 11 online shopping spree last year, 54.7 percent of the consumers on e-commerce site Tmall.com were women.
Chinese women are also embracing new ideas in consumption, regarding it as a way to live a better life, become beautiful and improve their self-worth. In the future, women in China will pay more attention to the value and quality of their purchases as well as personalized, diversified services, said Ren.