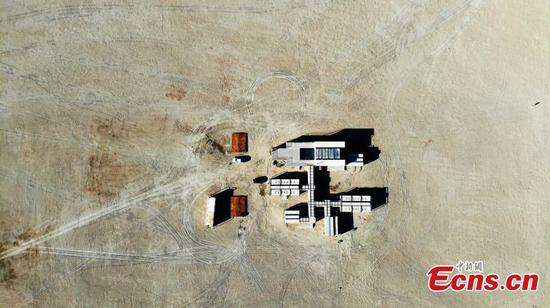 An aerial view of Mars Camp, China's first Mars simulation base, which opened with a launch ceremony on March 1, 2019. (Photo: China News Service/Sun Rui)
Special: NPC, CPPCC Sessions 2019
(ECNS) - China will send a rover to Mars in 2020 to orbit, land and conduct astronomical observation, said Wu Weiren, the chief designer of China's lunar exploration program, on Sunday.
At the ongoing annual session of the Chinese People's Political Consultative Conference, Wu, also a member of the top political advisory body, said China was making smooth progress in lunar exploration and that the Yutu-2 rover, launched as part of the Chang'e 4 mission, was presently moving northwestward of its landing site.
China obtained a mass of scientific data from the lunar rover and would be ready to make it open to the country and the world, Wu also said.
There have been 120 lunar exploration missions globally so far and China has conducted five, but all with high success rates, Wu said.
China also plans to launch the Chang'e 5 lunar exploration mission, consisting of a lander and a sample-return vehicle, by the end of this year.