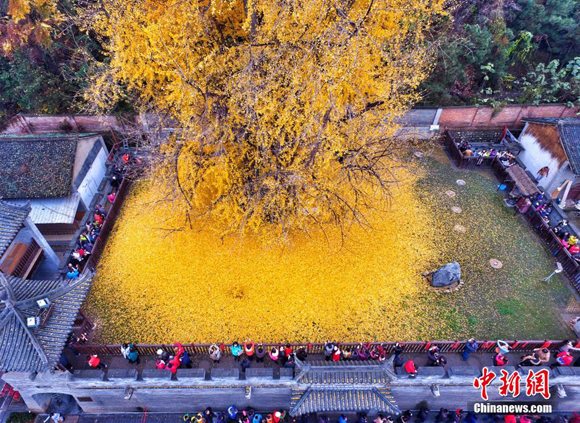 This file photo shows a 1,400-year-old ginkgo tree in Guanyin Zen Temple in Xi'an City, Shaanxi Province. (File photo/VCG)
(ECNS) -- A 1,400-year-old ginkgo tree in an ancient temple in Xi'an City, Shaanxi Province, has become such a hot tourist attraction that visitors must make online reservations before visiting, Beijing Youth Daily reported.
The Guanyin Zen Temple, built in 628 during the Tang Dynasty (618-907), is 30 kilometers from downtown Xi'an. It is said that Emperor Taizong Li Shimin personally planted the tree.
Staff said the temple used to attract fewer travelers, as Xi'an is home to numerous other historical and cultural relics, but it suddenly gained fame in 2016 because of photos of the tree's magical autumn foliage.
Many domestic and international media outlets published stories and photos of the tree while its leaves formed a perfect golden carpet at the temple. As it gained more attention, visitors flooded in to see the tree for themselves. A record high of 70,000 people a day visited during the peak season, and some had to queue for three to four hours to get in.
As the tree's leaves are now turning yellow, the temple has introduced a cap of 7,200 visitors a day, from Oct. 28 to Dec. 10. The temple opens at 8 in the morning and closes at 5.
Visitors can make reservations online through WeChat, a popular mobile app by Tencent.
A staff member said that elderly visitors may be allowed in, but generally other visitors had to make reservations in advance.