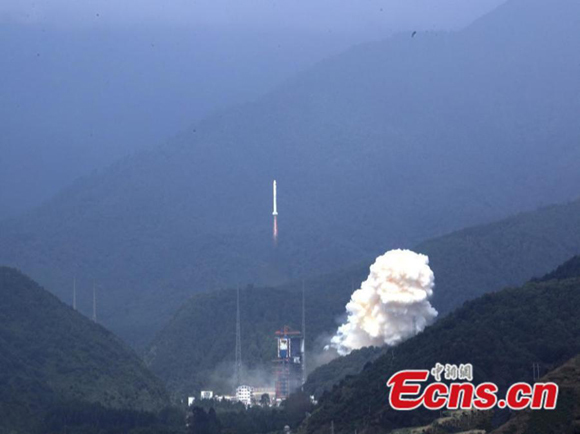 A Long March-2C rocket blasts off at 12:21 p.m., Sept. 29, 2017. (Photo: China News Service/Zhang Wenjun)
(ECNS) -- China will accelerate research into smaller carrier rockets for commercial use as the Long March rocket family finished its 251st launch on Friday, Beijing Youth Daily reported.
Shi Xiaohong, deputy director of planning and development at the information technology institute of China Aerospace Science and Technology Corporation (CASC), said more efforts would be made to develop the business-oriented small solid launch vehicle in future.
The launch service would cater for specific commercial requirements while China steadily pushes forward research into aircraft with suborbital flight capability, according to Shi.
On Friday, China used a Long March 2C carrier rocket to launch three satellites. CASC, the major contractor for the country's space programs, said the rocket successfully placed three Yaogan 30-1 satellites into orbit. These satellites would be used to carry out technological experiments on electromagnetic environments.
This was the 251st flight of the Long March rocket family and the 44th launch for the Long March 2C carrier rocket, which has had a success rate of 97 percent and was also a centerpiece of commercialization efforts focused on China's carrier rockets.
Chen Minkang, vice chief engineer of the Long March 2C carrier rocket, said it is positioned to serve commercial launch services for low and medium Earth orbit at a competitive cost.
"We will take three years to fully implement the Long March 2C/V4.0 carrier rocket, improve market competitiveness, and ensure a leading position," said Chen.