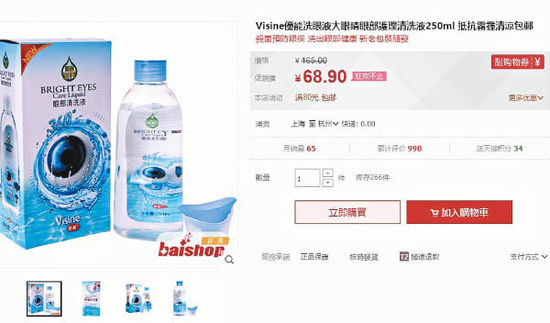 Screenshot from an online shop that sells so-called anti-smog eye drops. (Photo/cankaoxiaoxi.com)
(ECNS) ? Some online shops have started selling anti-smog eye drops and eye washes, as large parts of the mainland have recently been shrouded by air pollution, according to Hong Kong-based Oriental Morning Post.
Hundreds of the eye drops, priced between 18 and 85 yuan ($2.8-13.3), have sold in a month.
However, some pharmacists and ophthalmologists say they haven't heard of such a thing, and even say that smog doesn't hurt the eyes, as blinking and tears wash away small particles.
Experts suggest that people avoid wearing contact lenses on smoggy days, as they prevent small particles from being washed away.