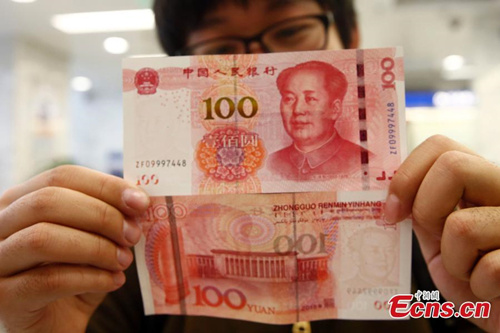 A resident shows new 100-yuan bank notes in a branch of the Bank of Communications in Beijing on November 12, 2015. The new 100-yuan bank note is put into use from Thursday, November 12. (Photo: China News service/ Zhang Hao)
(ECNS) -- Li Yang, prominent economist and academician at the Chinese Academy of Social Sciences, says China will not issue a 1,000-yuan banknote soon, China News Service reports.
Li made the remarks at a forum held by Peking University.
If more than 30 percent of transactions in the market are dealt with in 100-yuan banknotes, then a 1,000-yuan banknote is needed, he explained.
Li delivered a speech on lowering the leverage ratio, saying that a sovereign debt crisis in China is unlikely.