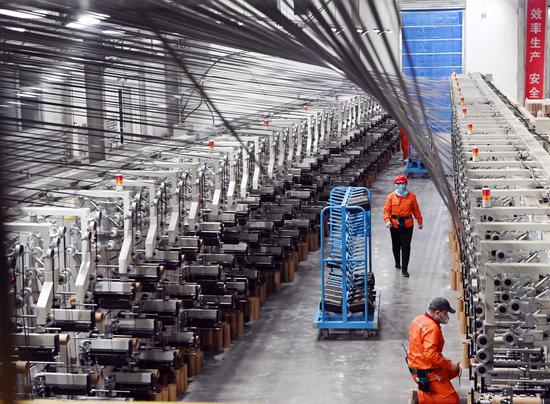 Xinjiang Runjust New Material Co, located in Urumqi, Xinjiang Uygur autonomous region, is building the world's largest single carbon fiber industrial base. (Photo provided to chinadaily.com.cn)
Special: Xinjiang
Machines were running at full speed on Wednesday to produce high-performance carbon fiber products at a factory in Urumqi, Xinjiang Uygur autonomous region.
It was all part of the first phase of a project to produce 50,000 metric tons of quality carbon fiber annually.
"The plan is to build eight carbonization workshops within five years in four phases with a total of 16 production lines, each having a design capacity of 3,000 tons of carbon fiber per year," said Zhou You, deputy general manager of Xinjiang Runjust New Material Co.
"When all the production lines are put into operation, it will be the world's largest single carbon fiber industrial base."
Zhou said the first phase of the project began operating in December. Two carbonization lines have been built, with one producing 24K products and the other producing 48K products.
"A bundle of 48K fibers has 48,000 monofilaments, with the diameter of each only one-eighth that of a hair. The specific gravity is less than one-quarter that of steel, and the strength is seven to nine times that of steel," he said.
Zhou said that carbon fiber is an inorganic fiber with a carbon content of more than 90 percent. It has excellent characteristics such as high temperature tolerance, corrosion resistance and electrical and thermal conductivity. It has wide application in aerospace, sports, new energy and many other fields.
"Xinjiang has broad development prospects in the fields of wind energy, photovoltaics and hydrogen energy. With the substantial growth of photovoltaic wind power demand, the application of carbon fiber in wind power blades and single crystal furnace thermal fields is expected to boost the development of the new materials industry," Zhou said.
With the smooth rollout of the first phase of the project, Runjust is expected to attract various enterprises to support the production of corresponding raw materials, as well as investment in downstream carbon fiber applications in the Urumqi Ganquanpu Economic Development Zone, where it is located.
Ganquanpu is a strategic industrial base that is emerging in Urumqi, said Qian Wenbin, deputy director of the zone's management committee.
"We have policies to encourage enterprises in the zone to purchase from each other and connect the industrial chain into a network," he said. "This is conducive to the agglomeration and development of the industry."
Xinjiang is vigorously developing new energy and new materials and other strategic emerging industries, and further promoting industrial chain extensions, reinforcement and strength around key industries, he said.