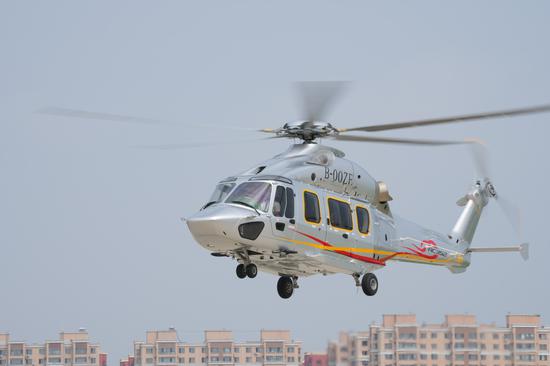 An AC352 helicopter conducts flight performance on July 26, 2022 at an airport run by Harbin Aircraft Industry in Heilongjiang province. (Photo provided to China Daily)
Aviation Industry Corp of China, the nation's leading aircraft maker, has started the mass production of its AC352 medium-lift utility helicopter and plans to begin the delivery in 2024, according to a project manager.
"The assembly of the first mass-produced AC352 has been underway at our manufacturing facility in Tianjin starting this year. Meanwhile, the Civil Aviation Administration of China has opened the type's production certification process. The helicopter's mass production and certification are taking place simultaneously," Yang Guangzhao, deputy general manager of AVIC Tianjin Helicopter, told China Daily in an exclusive interview on Wednesday in Tianjin.
"According to the project's schedule, the certification work will be completed next year, and we will deliver the first AC352s to domestic users before the end of 2024," he said.
Yang said the helicopter has advanced technologies and world-class capability and is able to undertake many tasks such as search and rescue, emergency response, personnel transportation, medical airlift and chartered flights.
The AC352, China's first 7-metric-ton-class helicopter, was co-developed by AVIC and Airbus Helicopters.
Work began on the helicopter in 2006 and it made its first flight in December 2016 in Harbin.
In July 2022, the Civil Aviation Administration of China conferred the type approval certificate to the AC352, marking the successful completion of the helicopter's research, development and test flights.
Propelled by two turboshaft engines, the helicopter has a maximum takeoff weight of 7.5 tons, a maximum carrying capacity of 3 tons and a cruising speed of about 280 kilometers per hour. It can fly up to 850 km on a single flight, according to AVIC.
According to AVIC, the AC352 is one of the most comfortable and environmentally friendly medium-sized helicopters in the world.
Operated by two pilots, it can transport up to 16 passengers inside its 12-cubic-meter cabin.