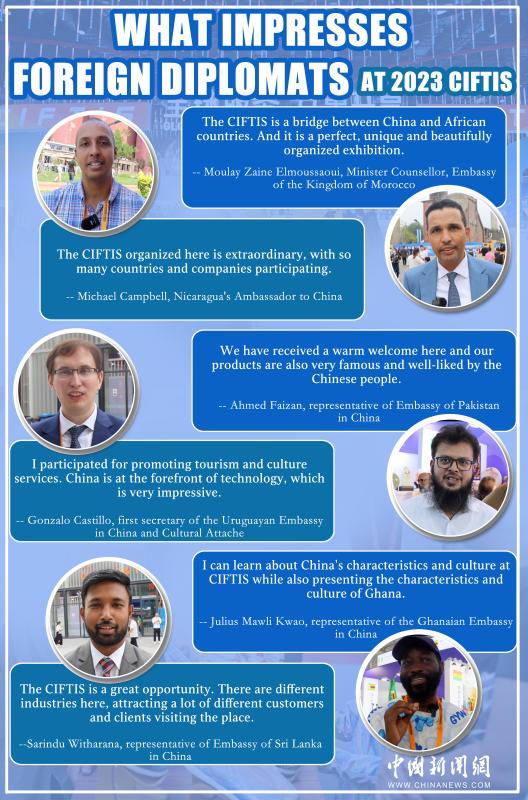 China is hosting the 2023 China International Fair for Trade in Services (CIFTIS) from September 2 to 6 in Beijing. The event welcomes companies and media industries from all over the world. It has a 155,000 square meter display space with 51 countries and 24 international organizations each hosting a booth.
"The CIFTIS organized here is something extraordinary, with so many countries and companies participating," said Michael Campbell, Nicaragua's Ambassador to China. "Among different countries, sharing a little about culture, dialoguing, and showcasing products and services can help to create a more prosperous, united and tolerant world for all," he added.
Moulay Zaine Elmoussaoui, Minister Counsellor at the Embassy of the Kingdom of Morocco, described CIFTIS as a bridge between China and African countries like Morocco. He praised it as a perfectly organized event and commended China as a miracle in terms of development, infrastructure construction, and art.
Gonzalo Castillo, the first secretary of the Uruguayan Embassy in China and Cultural Attache, noted that this year marks the 35th anniversary of diplomatic relationships between Uruguay and China. He participated for promoting tourism and culture services and also mentioned that China is at the forefront of technology, which is very impressive.
Ahmed Faizan, representative of Embassy of Pakistan in China, has visited China more than 15 times. He said they have received a warm welcome here and their products are also very famous and well-liked by the Chinese people.
Sarindu Witharana, a representative of Embassy of Sri Lanka in China, has said that the CIFTIS is a great opportunity for them. "There are different industries here, attracting a lot of different customers and clients visiting the place."
Julius Mawli Kwao, a representative of the Ghanaian Embassy in China, who has participated in CIFTIS for many times, said that he can learn about China's characteristics and culture at CIFTIS, while also presenting characteristics and culture of Ghana here. He welcomed friends from all over the world to come and see China with their own eyes. (By Gu Liping, Han Feixue, Zhang Shunhua and Chen Shankun)