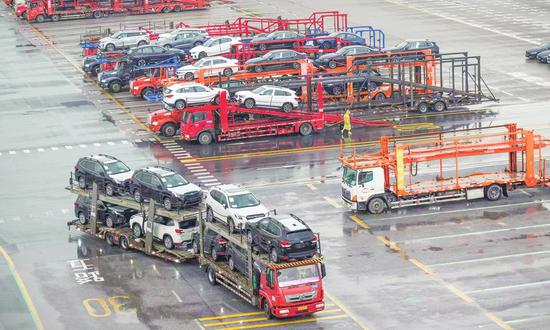 Transport trucks move cars inside a depot at Nansha Automobile Port in Guangzhou, South China's Guangdong Province on April 19, 2023. (Photo: Chen Tao/GT)
Chinese-made automobiles are making a wider and firmer foothold in Russia amid a strong export momentum since the start of the year.
Russia became the top export destination for Chinese cars in the first five months of the year with the export volume reaching to 287,000 units, followed by Mexico with 159,000 units and Belgium with 120,000 units, the China Association of Automobile Manufacturers (CAAM) said on Tuesday, citing data from the Chinese customs authority.
Among the total exports over the period, new-energy vehicles (NEVs) realized exports of 673,000 units, up 1.2 times. Belgium, the UK and Thailand are the top three destinations for China's NEVs.
The CAAM also released June's auto performance data.
Auto exports in June stood at 382,000 units, up 53.2 percent on a yearly basis. In the first half of the year, auto exports reached 2.14 million units, a jump of 75.7 percent from a year ago.
Xu Haidong, a deputy general engineer of CAAM, said that China-made vehicles have become more competitive in the global market, benefitting from strict quality control, sophisticated industrial chain and advanced maintenance services.
"The retreat of Western auto brands from the Russian market has left a niche for Chinese players to fill in. Coupled with the enhanced competitiveness of Chinese cars, Russia has witnessed more Chinese autos being shipped there," Cui Dongshu, secretary general of the China Passenger Car Association (CPCA), told the Global Times on Tuesday.
Sales of Chinese cars in Russia are expected to reach 380,000 to 400,000 by the end of 2023, the Xinhua News Agency reported, citing estimates of experts at Otkritie Auto, the auto business unit of Russia's Otkritie Bank.
Chinese automakers have nearly 1,500 dealerships in Russia, accounting for 46 percent of Russia's total, according to estimates released by Otkritie Auto.
The most popular Chinese auto brands in Russia are Chery's Tiggo, Haval and Geely.
"China's auto exports have maintained a robust momentum since the start of the year compared with the steady recovery of domestic auto market," Cui noted.
The CPCA data showed that passenger vehicle sales increased in China on a month-on-month basis from February to June, something that has not happened within the past two decades.
Retail car sales stood at 1.9 million units in June, up 8.7 percent from May. Yet sales fell 2.6 percent last month on a yearly basis due to the high comparison base in June last year.
Cui estimated that China's vehicle exports will grow significantly this month because of the exchange rate of Chinese currency yuan in the foreign exchange market is favorable for exports.
China has become the largest auto exporter in the first quarter this year, surpassing Japan.
The country will take more measures to encourage vehicle exports, China's Ministry of Commerce said in May, highlighting measures that include strengthening vehicle quality and encouraging auto producers to cooperate with domestic and foreign financial institutions in offering financial products.