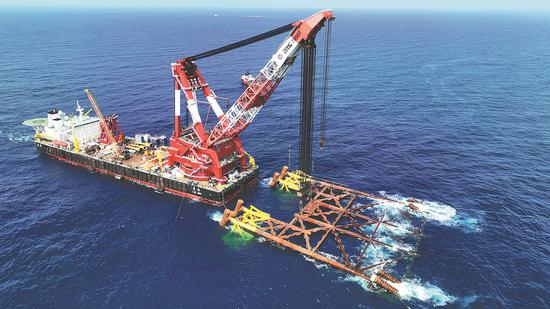 A floating crane helps install marine equipment near the Enping oilfield off the mouth of the Pearl River. (PHOTO by CHEN WEN/CHINA NEWS SERVICE)
China's first independently designed offshore carbon dioxide injection well will not only facilitate the government's ambition to achieve carbon neutrality by 2060, but also fills a void in China's offshore CO2 storage technology, industry experts said.
The offshore CO2 injection well, developed by China National Offshore Oil Corp, began drilling off the mouth of the Pearl River in the South China Sea on Sunday. Equipped with China's first offshore CO2 storage device, it will inject and seal up CO2 generated during oil and gas exploitation into the seabed — equivalent to storing 300,000 metric tons of the greenhouse gas per year at its peak with a cumulative storage of 1.5 million tons.
Guo Yongbin, deputy general manager and chief engineer of CNOOC Shenzhen branch, said the company had initially developed a full set of equipment able to carry out CO2 injection, storage and monitoring, thus filling a gap in China's offshore CO2 storage technology.
There are almost no successful drilling and completion technologies and cases that can be used for reference in offshore CO2 injection wells worldwide, Guo said.
CNOOC has successfully developed a low-density CO2 corrosion-resistant cement slurry system and a low temperature drilling fluid system, said the company.
An analyst said the project will help store CO2 produced by some high-emission enterprises in coastal areas.
The project will provide reference and guidance for subsequent oil and gas field development and large-scale emission reductions of coastal high-emission enterprises, while opening up a new road of carbon reduction and environmental protection, said Lin Boqiang, head of the China Institute for Studies in Energy Policy at Xiamen University.
Located off the mouth of the Pearl River, the Enping 15-1 facility is Asia's largest offshore oil production platform and was put into operation in December. CNOOC has carried out research on key technologies related to geological reservoirs, drilling and completion as well as engineering integration suitable for offshore CO2 storage, and finally decided to store the greenhouse gas in a domed geological structure about 3 kilometers away from Enping 15-1.