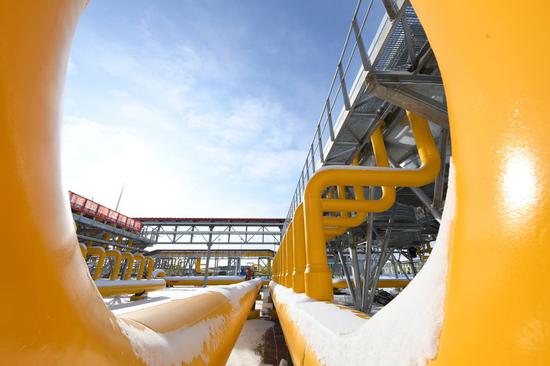 Photo taken on Nov. 19, 2019 shows a section of the China-Russia east-route natural gas pipeline in Heihe, northeast China's Heilongjiang Province. (Xinhua/Wang Jianwei)
China aims to raise the use of natural gas to 10 percent of the country's energy mix by 2020 and 15 percent by 2030, according to the National Development and Reform Commission.
Sun Xingxiang, deputy chief economist of China Petroleum Pipeline Engineering Co., Ltd. under CNPC, said the operation of the China-Russia east-route gas pipeline can help reduce the annual emissions of carbon dioxide, sulfur dioxide, nitrogen oxides and dust by 164 million tonnes, 1.82 million tonnes, 460,000 tonnes and 840,000 tonnes, respectively.
"This will effectively optimize the country's energy consumption structure, mitigate air pollution along the route and keep our skies blue," Sun said.
The project is a successful example of China's practice of the concept of "mutual benefit and win-win" in international cooperation, and it combines the advantages of Russia's abundant resources and China's vast market, said Ma Youjun, an expert with the Heilongjiang Provincial Academy of Social Sciences.
It will also boost the development of Russia's Far East, according to Ma.