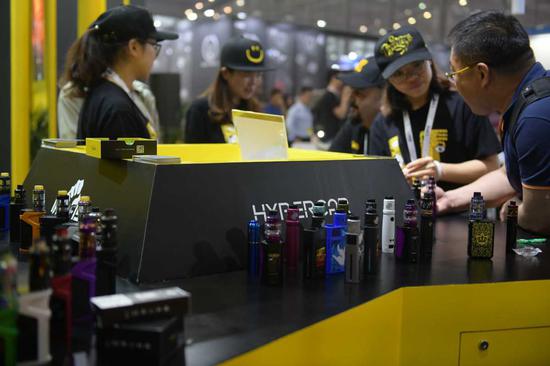 A visitor checks out an e-cigarette during an exhibition in Shenzhen, Guangdong Province.(Photo provided to China Daily)
Doubts arise as health scare shrouds future of segment that investors back
Investors backing Chinese firms involved in the manufacturing, sales and distribution of electronic cigarettes may want to be cautious as regulations could be tightened in the wake of recent health scares, experts warned.
A report from Tsinghua University showed China produces 95 percent and exports 90 percent of e-cigarettes in the world, which determines its pricing power in the global market.
E-cigarette makers had attracted a lot of capital in the Chinese market in recent times. However, signs of a crisis appeared after the United States Center for Disease Control and Prevention reported that 1,299 lung disease cases and 26 deaths by Oct 8 were possibly caused by e-cigarettes.
An e-cigarette uses battery-powered cartridges to produce a flavored vapor that often contains nicotine. The faddish practice of inhaling and exhaling such vapor is called vaping.
Compared with the traditional cigarette, e-cigarette is "less harmful" and "helps smokers quit smoking", their producers have often claimed.
Young people are the major e-cigarette smokers in China, according to a report in May from the Chinese Center for Disease Control and Prevention.
Liao Wenke, vice-chairman of the Chinese Association on Tobacco Control, told National Business Daily that many producers use stylish designs, various flavors or invite celebrities as brand-endorsers to attract young consumers.
There are e-cigarettes that resemble a car key, mini guitar or USB flash drive, and come in flavors like blueberry, green tea and lavender.
The number of e-cigarette users worldwide grew from about 10 million in 2012 to 40 million now, with the United States being the biggest consumer market, according to consultancy firm Euromonitor International.
Compound annual growth rate of Chinese e-cigarette market reached about 65 percent in 2018, which made e-cigarette one of the most eye-catching categories in the consumer products industry in recent years, it said.
Zhao Hao, an investment manager at Sky Saga Capital, said the rapid development of some US e-cigarette companies has shown immense growth potential in an expanding market, where the number of consumers has surged in recent times.
Ijoy, one of the over 9,500 Chinese e-cigarette brands, received 3 million yuan ($42.2 million) in funding in May 2018. Moti received investment of up to $10 million from Zhen Fund in December last year. Flow received more than $10.8 million financing in May this year.
Relx, which commanded 44 percent of the Chinese market in the first half of this year, has received financing several times larger than the sum from No 2 to No 10 brands, its co-founder Jiang Long said in August.
Price of e-cigarettes is often higher than traditional tobacco. A tobacco stem with four cartridges of Relx costs 450 yuan on Chinese e-commerce platform JD. A packet of cigarettes generally costs less than 100 yuan.
Profit from the business is also high. A vendor at Huaqiangbei area of Shenzhen told National Business Daily that one client paid about 40 yuan to buy the product from him and then resold it at about $50 to $60.
Low entry barriers, high profit and large number of potential consumers are attracting capital to the market, insiders said.
Following the developments in the US, several countries and provinces have banned sales of e-cigarettes. India, and San Francisco and Massachusetts in the US, are among them.
The ban influenced the commercial market. Walmart stopped selling e-cigarettes at its stores in the US. Major Chinese e-commerce companies Alibaba and JD stopped selling e-cigarettes to the US in October. The CEO of Juul Labs, the US-based leading e-cigarette company, stepped down last month.
In China, Shenzhen, Hangzhou, Nanning, Hong Kong and Macao have banned use of e-cigarettes in public places, according to a Xinhua report.
A related regulation is expected later this month, according to Mao Qun'an, director of the planning office of the National Health Commission. He said the nicotine content, the damage to human body and risks like explosions, liquid permeation and high-temperature burns need to be highlighted by way of clear warnings to users.
Li Daxiao, chief economist at Shenzhen-based Yingda Securities, said the market hides high risks for investors as more people begin to focus on health concerns as well as the coming regulation tightening, even a possible ban in more regions.
"Chinese people value health. Businesses that promote health have a long-term future and can be sustainable, not the other way around," he said.
Zhao said branding and supply-chain operations are key to the success of e-cigarette companies. "But with tighter regulation on the horizon, it's hard to predict how far a startup can go in this segment."