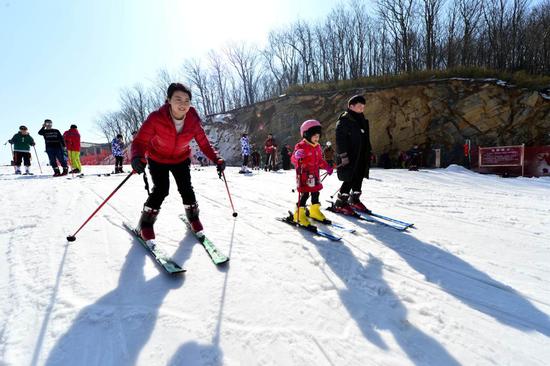 Winter sports enthusiasts practice skiing at a resort in Baokang county, Hubei province. (YANG TAO/FOR CHINA DAILY)
Lesser-known activities like yachting finding acceptance with consumers
Lesser-known sporting activities like yachting and snow and ice sports are seeing greater traction in China and spawning the fast growth of related consumption industries, thanks to the government efforts to promote the sector, industry experts said.
The government has already identified the over 2-trillion-yuan sports sector as an important conduit in its efforts to boost citizens' quality of life and generate new economic consumption. It has charted ambitious plans to support the growth of sports services, sports products manufacturing, and the development of ice and snow sports sector, according to a guideline issued by the State Council.
Last year, sports-related consumption in China reached 2.4 trillion yuan ($340 billion), up 9.09 percent year-on-year. By 2020, it is expected to exceed 3 trillion yuan. The added value of the sports industry accounts for about 1 percent of the GDP, compared with 2 percent to 3 percent for developed countries, it said.
China's sports sector has huge potential for long-term investment, especially in sports products, equipment and materials, said a recent research report from CITIC Securities.
Yachting has already started gaining traction in China as a healthy, affordable and environmental-friendly sport for an entire family.
"Yachting is a leisure sport that is trendy, environmental friendly and healthy. People of all ages, be it toddlers to the elderly, can participate in the sport. Some people still regard the sport as expensive, dangerous and complicated. But we are looking to help correct such ideas," said Fu Danqing, deputy secretary-general of the Chinese Yachting Association.
The association has already taken several steps to popularize the sport in the country. Last year, it conducted a family yachting competition in China and has till date held 16 contests in 11 coastal and inland cities. The primary objective of these competitions was to dispel the notion that yachting was an expensive and complex sport and drive home the message that it was an easy and affordable sport for everyone, it said.
Going forward, the association plans to provide assistance to set up yachting clubs, conduct training programs for teenagers and hold more contests across the nation.
"The family yachting competition is still in its popularization stage and making profits is not our priority. In the long term, we are bullish on the commercial growth potential of the competition, as it is a group event that integrates tourism, entertainment, culture, parenting and sports consumption," said Fu.
"Essentially, it is also a vacation product that integrates tourism, education, real estate, manufacturing, service industries and other fields. It has great commercial value in the future," she said.
Currently, entry-level participants are using yachting equipment provided by clubs and agencies. When the players start becoming more professional, they can buy equipment such as gloves, watches, life jackets, and even boats by themselves, the association said. Some equipment suppliers have already started lowering costs of boats and windsurfers to cash in on the anticipated boom, it said.
The snow and ice sports sector has also been seeing momentum in the run-up to the Beijing Winter Olympics in 2022. China is expected to see more than 300 million people being involved in winter sports by 2022, according to the Ministry of Culture and Tourism.
A total of 21 million visits to ski areas in China were made last year, up 14.4 percent from 2017. By the end of last year, China had a total of 742 snow areas. By 2022, the country aims to have 800 ski areas, according to research by Beijingbased Carving Ski Group, a major supplier of ski equipment and a designer and management specialist of ski areas.
During the first six months of this year, the Shenzhen-listed Carving Ski achieved sales revenue of 22.5 million yuan, up 373.85 percent year-on-year. Net profit rose to 120,000 yuan, up 101.63 percent year-on-year, according to the company.
"The growth has been mainly due to expanding business and customers. We have also done more work in the research and development of advanced ski equipment and innovative services. The fastest growth category has been ski equipment, or the personal consumption segment," said Zhang Hongjun, president of Carving Ski.
"We are confident about the growth of the company and the sector, given the favorable policy support, the increasing number of people taking to skiing, and an expanding industry scale. Next, we will invest in or acquire some ski resorts with good locations and market environment, and develop more ski equipment for consumers," he said.
Currently, the company is seeking to develop more projects such as indoor ski domes and ice and snow amusement parks in Yangtze River Delta, Pearl River Delta, and Sichuan and Chongqing. Ice and snow are scarce resources in those areas, but the demand and spending power is strong, Carving Ski said.
Still, ice and snow sports in China is in its initial development stages. The market has a large demand for entertainment and viewing types of equipment, such as recreational facilities, and snow and ice sculptures. For ski equipment, the design and production of domestically made products is quite similar with imported ones, but they need to improve in details and foster better brand impact and market recognition, Carving Ski said.